Study finds 'soup of toxic chemicals' in the air near Arkansas ExxonMobil spill site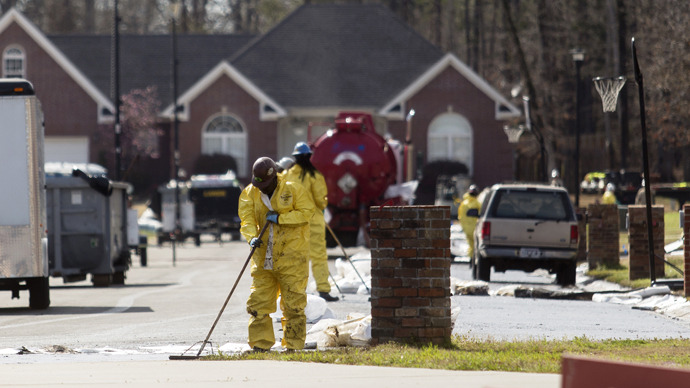 While many questions remain following ExxonMobil's March 29 tar sands oil spill in Mayflower, Arkansas, a new independent study has revealed the existence of high levels of cancer-causing chemicals in the area.
The new research, co-published by the Faulkner County Citizens Advisory Group and Global Community Monitor, indicates that the 500,000 gallons of heavy bitumen oil released by a gash in ExxonMobil's aging Pegasus pipeline has released hazardous air pollutants (HAPs) as defined by the 1990 US Clean Air Act.
According to a press release in conjunction with the new study, the total of 30 toxic chemicals include benzene, toluene, ethylbenzene, n-hexane and xylenes. Consequences of exposure to these chemicals include damage to the human nervous system, muscular weakness and blurred vision, while breathing ethylbenzene and benzene in particular can cause cancer and reproductive issues.
According to April Lane of the Faulkner County Citizens Advisory Group, health reports collected from residents in the four weeks following the spill show they are demonstrating symptoms consistent with exposure to hazardous chemicals and independent air testing.
"Even four weeks later, residents are still feeling symptoms from the chemical exposure. People have consistently talked about gastrointestinal problems, headaches, respiratory problems, skin irritation including chemical burns, and extreme fatigue," says Lane.
According to Dr. Neil Carman, a member of the Lone Star Chapter of the Sierra Club and a former member of the Texas Commission on Environmental Quality, analysis of these HAPs could present any number of public health concerns.
"Thirty toxic hydrocarbons were measured above the detection limits. Each of the thirty hydrocarbons measured in the Mayflower release is a toxic chemical on its own and may pose a threat to human health depending on various exposure and individual factors," said Carman, who described the ambient air in the affected spill region as a "soup of toxic chemicals."
The study comes only a week after another independent test performed by Opflex Solutions on nearby Lake Conway disputed ExxonMobil's claims that bitumen heavy crude oil had not reached the lake.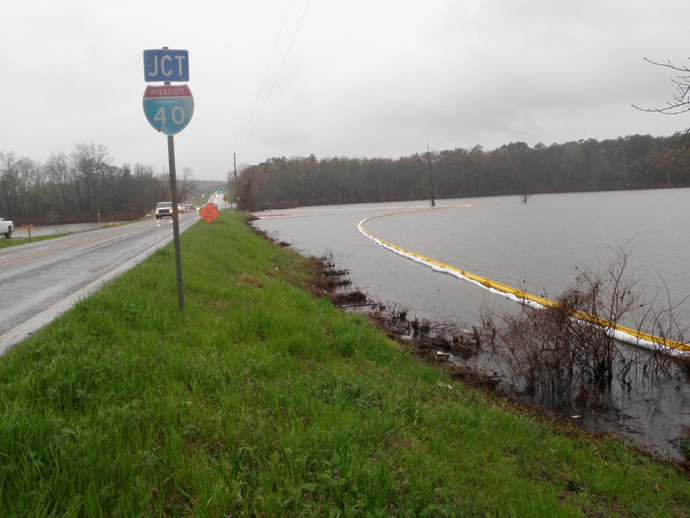 While the oil giant's official statement read that "the main body of Lake Conway and Palarm Creek remain oil free," the CEO of Opflex, a company specializing in oil spill cleanups, confirmed a different truth.
"Yes, there's oil in Lake Conway and there's oil downstream flowing into the Arkansas River," said Smith. "I have found methylene chloride and barium in concentrations indicative of tar sands oil," he added.
According to Inside Climate News, which has been closely following ExxonMobil's response during the Mayflower spill's cleanup, a number of discrepancies in its statements make it unclear when the Pegasus pipeline began leaking, how the company found out about the initial spill, or how quickly the company moved to contain the breach.
As of yet, a definitive answer on how much oil spilled from the 22-foot-long pipeline gash remains in dispute. Three groups are currently looking into the spill: The Pipeline and Hazardous Materials Safety Administration (PHMSA), US Representative Ed Markey (D-Mass) and Arkansas Attorney General Dustin McDaniel. McDaniel recently received over 12,500 pages of documents from ExxonMobil following a subpoena.
Last week, local news channel THV11 reported on a Mayflower town hall meeting hosted by the Faulkner County Citizens Advisory Group. At that meeting John Hammons, a local resident near a smaller body of water adjacent to Lake Conway, reported his concern of consequences from oil spill contamination:
"We can smell it. So I know it's there," Hammons said, who is concerned for his wife, who is seven months pregnant.
"She's broken out in hives, had nose bleeds, (and) respiratory problems," added Hammons.

You can share this story on social media: