ExxonMobil Arkansas oil spill poses health risks for locals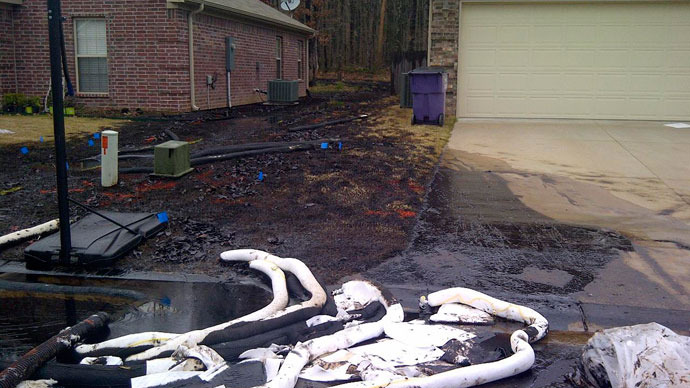 After 210,000 gallons of heavy crude spilled into an Arkansas community, ExxonMobil assured residents that toxic chemicals have remained at safe levels. But locals say they are suffering from deteriorating health conditions and trouble breathing.
Residents of Mayflower, Ark., have reported difficulty breathing, sinus problems, burning noses and eyes, extreme fatigue, headaches, stomachaches and unexplained sore throats – often accompanied by a putrid stench.
ExxonMobil, the owner of the Pegasus pipeline that ruptured on March 29, claims that toxic chemicals in the air are at safe levels and no risk to the local community.
But resident complaints, health surveys and air samples tell a different story. Air samples from March 30 contained about 30 toxic chemicals in the small town of Mayflower, according to a press release by the Global Community Monitor (GCM), which conducted the independent tests.
The air samples contained chemicals including benzene, toluene, ethylbenzene, n-hexane and xylenes. Many of these chemicals can cause cancer and reproductive health problems. Breathing n-hexene can cause permanent damage to the nervous system and cause numbness in the genital regions, muscular weakness, blurred vision, and headaches.
The chemicals found in the samples are "regulated under the 1990 Federal Clean Air Act amendments as the most toxic of all known airborne chemicals," according to the release.
"The chemicals detected in the samples match the health impacts experienced both in the immediate neighborhood of the spill, and in the surrounding community," Wilma Subra, an environmental health consultant, told The Huffington Post.
Furthermore, the chemicals are most likely to affect young children, since they are much more sensitive to lower levels of toxins than adults. Even if the state considers air toxins to be at a legally safe level, it may only be 'safe' for adults.
Mayflower resident Genieve Long told HuffPost that her 5-year-old son has been "wheezing and struggling to breathe" at night, starting a few days after the oil spill. She would constantly wake up panicked, fearing for her son's health.
And at the local elementary school, eight children were sent home last week due to breathing problems that were accompanied by a strong odor across Mayflower.
"A lot of the released chemicals – benzene, hydrogen sulfide, toluene – are still extremely toxic, especially to children, the elderly and pregnant women, at very low levels," said April Lane, who is in charge of health and safety at the school and has also been collecting health reports from local residents since the pipeline ruptured.
"Even four weeks later, residents are still feeling symptoms from the chemical exposure," she said in a GCM press release. "People have consistently talked about gastrointestinal problems, headaches, respiratory problems, skin irritation including chemical burns, and extreme fatigue."
Sherry Appleman, a resident who lives off of Lake Conway outside of the evacuation zone, said she herself has been suffering from deteriorating health conditions. She blames her symptoms on her proximity to the lake, which is now covered in thick, sticky bitumen. ExxonMobil previously alleged that the lake was not affected by the spill – but dead fish, ducks and wildlife indicate otherwise.
"I couldn't breathe," Appleman told HuffPost, describing a night she woke up shortly after the spill. "My throat and nose and eyes were burning really bad. I could smell that horrible smell. I got really scared."
Appleman said she suffered headaches, stomachaches, and a sore throat for nine days. She also witnessed three men, equipped with a video screen and computer, pulling dead fish from the lake in the middle of the night.
And although Exxon and the Arkansas Department of Environmental Quality denied that the spill could sicken residents, National Resources Defense Council communications associate Rocky Kistner told KATV that they did little to investigate it.
"I haven't seen a lot of health authorities going into the neighborhoods and asking people directly, knocking on doors trying to find out well what are people experiencing in terms of their health," he said.
At a rally in front of the State Department last week, Long asked Secretary of State John Kerry to travel to Mayflower and take a look at the aftermath of the spill to see why transporting Canadian oil sands might be a bad idea. Even though Washington, D.C. is a large city in comparison to Mayflower, Long said the air smelled cleaner and purer than what she experiences at home in Arkansas.
"When I came back home, the putrid stench was still not gone," she said.
You can share this story on social media: