Arkansas ExxonMobil oil spill even worse than thought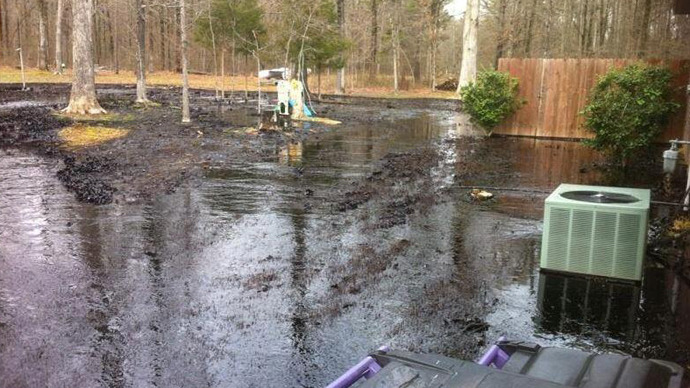 An Arkansas state attorney general has announced that the ExxonMobil pipeline rupture that has leaked thousands of barrels of oil in central Arkansas is "substantially larger" than initially believed, but that the size of the leak still remains unknown.
Cleanup crews have already recovered about 28,200 barrels of 'oily water' and 2,000 cubic yards of contaminated soil and debris, but may still have a long way to go before all of the 22 residents evacuated from Mayflower, Arkansas, can return to their homes.
Follow RT's in-depth day-by-day timeline on the Arkansas oil spill

The company has remained largely mute about the extent of the spill. A no-fly zone above the disaster area has restricted media access, and ExxonMobil has kept quiet about the estimated size of the oil spill.
"The pipeline rupture is substantially larger than many of us initially thought," State Attorney General Dustin McDaniel told reporters on Wednesday. McDaniel's office has launched an investigation into the spill and has asked ExxonMobil to keep all documents relating to the spill and the cleanup efforts.
While members of the cleanup crew scour the empty streets in Hazmat suits, the bodies of oil-drenched wildlife continue to be recovered, and local residents complain of emerging health problems, many have already suspected that the damage may be greater than ExxonMobil claims.
"We still do not know how much oil was released. We still do not know the exact makeup of the crude itself, of the chemical solvents used in the transportation process," McDaniel said.
"More documents will be received and requested from Exxon in coming days," he added. "But now everyone's priority continues to be the cleanup efforts in Mayflower."
Lawyers and investigators are currently reviewing more than 12,500 pages of documents ExxonMobil submitted to McDaniel's office. Included in these are inspection and maintenance records about the Pegasus pipeline, where an enormous rupture erupted tens of thousands of barrels of Canadian tar sands.
This rupture caused at least 500,000 gallons of tar sands crude and contaminated water to seep into the Mayflower community. About 140 live animals affected by the spill have been captured, only 13 of them have been released, according to an update from the Mayflower Incident Unified Command Joint Information Center.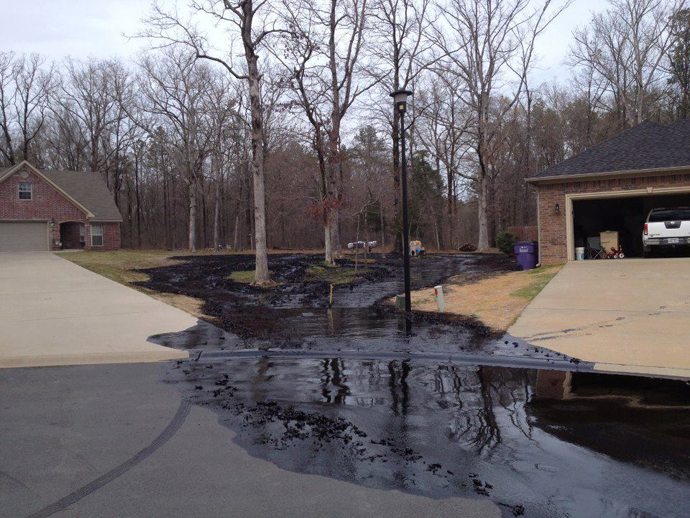 In order to force ExxonMobil's cooperation in the investigation, McDaniel had to issue a subpoena for the documents and data about the Pegasus pipeline. Earlier this week, the attorney general estimated that about 600 emergency responders were employed in the cleanup effort. Exxon on Wednesday said the number is closer to 700. With such a large crew and a cleanup effort that is "just not going great", McDaniel had already predicted that the spill was no small matter.
"I hope they realize for the homeowners in this area, it is not small. It is catastrophic. For those who fear their drinking water, it is not great," he said.
On Thursday, officials told AP that some evacuated residents may be able to return to their homes this week. Mayflower residents of four homes will be able to return Thursday and another "eight or nine" could return in the next few days, federal on-scene coordinator Nick Brescia told reporters.
Exxon has already promised to compensate victims of the oil spill and has donated $15,000 to an elementary school in the region. 
"A lot of children were affected negatively, some directly, some indirectly," Mayflower Elementary School Superintendent John Gray told KTHV TV. 
But due to legal guidelines that fail to define diluted bitumen -- the substance that inundated Mayflower -- as oil, the corporation may not be required to contribute to the federal government's oil spillage cleanup fund – making their donations pocket change in comparison to the cost of contributing to the cleanup fund.
Exxon claims that as of Wednesday, most of its free-standing oil has been recovered. But Mayflower is forecast to experience severe storms throughout Thursday, which have been a cause of concern for the cleanup crew. Exxon says it is strengthening its containment system in wake of the weather forecasts.
But Exxon is unlikely to leave anytime soon: even after removing free-standing oil, cleanup crews still have to power wash sidewalks, take out contaminated vegetation, put down new lawns, and remove the oil from less accessible areas.
And with a spill that is "substantially larger" than initially believed, the cleanup process could take an undefined, but substantially longer, time to complete.
You can share this story on social media: