Army ranger says his friendly fire might have killed Pat Tillman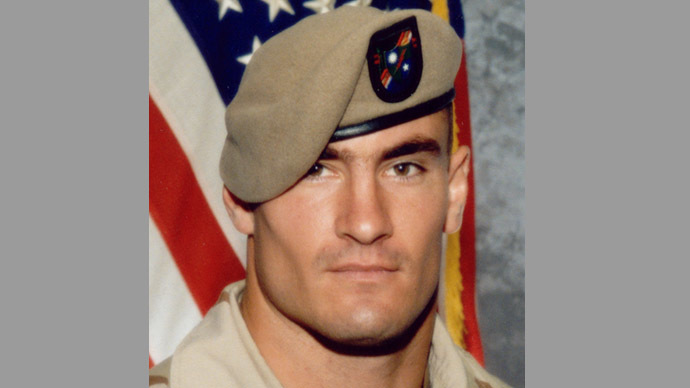 Nearly a decade later, a ranger in the United States Army now says he may have been the soldier that fatally shot professional football player-turned-corporal Pat Tillman in Afghanistan.
The April 22, 2004 incident remains to be one of the most discussed moments to occur during the longest-running American-led war ever: Tillman abandoned his high-profile career with the National Football League to join the US Army in aftermath of the September 11, 2001 terrorist attacks, only to be killed in southeast Afghanistan after a colleague accidentally opened fire.
Initially, the US military blamed Tillman's death on a group of insurgents. The soldier was killed "in the line of devastating enemy fire," the Army said in an official release, but quickly after acknowledged in secret that friendly fire gone awry was likely to blame. It eventually became the subject of a congressional investigation and propelled the incident into the national spotlight.
Speaking to ESPN for an interview that aired over the weekend on Sunday, Steven Elliott said he believes he may be the one responsible for Tillman's death.
"It is possible, in my mind, that I hit him," Elliott told the sports network for what was his first time publicly ever discussing the incident.
"It would be disingenuous for me to say there is no way my rounds didn't kill him, because my rounds very well could have," he said.
During the 2004 tragedy, Elliott says he was equipped with an M240 Bravo machine gun. Mike Fish for ESPN wrote that the soldiers were roughly 100 yards apart when Elliott and two others opened fire at Tillman after mistaking a man next to the former football star for an adversary. The other suspected shooters, Fish wrote, declined to comment.
"Tillman's group, which had traveled ahead, scaled a ridgeline to provide assistance to fellow Rangers under attack," Fish wrote. "But a squad leader, Sgt. Greg Baker, in Elliott's armored vehicle misidentified an allied Afghan soldier positioned next to Tillman as the enemy and opened fire, killing the Afghan and prompting Elliott and two other Rangers to fire upon what Elliott called shadowy images, later learned to have been Tillman and then-19-year-old Bryan O'Neal."
"The mantra is that when all else fails you do what your team leader does, you go where your team leader goes and you shoot where your team leader shoots, and so effectively ..." Elliott recalled during his recent interview with ESPN. "Effectively him firing at that position is, is the same as his giving an order to fire. ... And it breaks my heart to say that, because I know that he regrets that -- so much."
Now 33, Elliott told ESPN's Outside the Lines program that he left the Army in 2007 and has since been treated for post-traumatic stress disorder as a result of his service. By speaking up, he said, he hoped he'd inspire other veterans to seek help.
According to the US Department of Veteran Affairs, as many a 20 percent of Iraq and Afghanistan War vets suffer from PTSD.
You can share this story on social media: