Tillman family opposes McChrystal appointment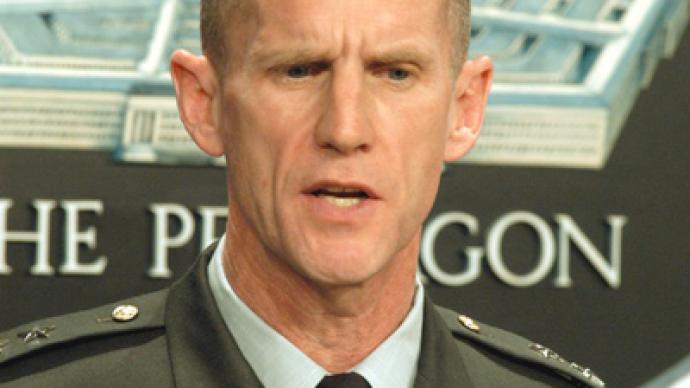 Retired military general Stanley McChrystal has become the unlikely choice of President Obama to co-chair a commission on military families this week, and those opposed to the appointment are letting their voices be heard.
Mary Tillman, the mother of slain Army Ranger Pat Tillman, took to ABC News to protest Obama's decision. Her son became the infamous victim of a friendly fire incident in 2004, to which McChrystal played a crucial role in covering it up. McChrystal initially described Tillman's passing as a result of being "in the line of devastating enemy fire" in an April 2004 statement before following it up the next day with a confidential memo. In that statement, the at-time commander of special operations in Afghanistan admitted that the soldier's death may very well have been the result of US action. "It is highly possible that Corporal Tillman was killed by friendly fire," said McChrystal. In light of a highly-publicized memorial, McChrystal then wrote to those in charge in an effort to "preclude any…public embarrassment if the circumstances of Corporal Tillman's death become public."To ABC News, Mrs. Tillman said she was shocked to find out about Obama's appointment, saying that, "Considering that we have plenty of evidence indicating that McChrystal was involved in the cover-up of Pat's death…he's not the right person for that kind of a job.""Someone who has a heartfelt desire to help families would not have been involved in the cover-up of a soldier's death, especially one that they used to promote a war," she says.McChrystal made an effort to establish Tillman's passing as an enemy effort, all while continuing conversations with his higher-ups in which he disclosed the factual, unfortunate demise of the solider.Disciplinary actions against the now-retired general were originally discussed, but the army officially cleared him of any wrongdoing in 2007. Only last year did McChrystal resign from his post as commander of US and NATO coalition forces in Afghanistan following a controversial Rolling Stone article in which he critiqued the same administration that has now appointed him co-chair."Putting Stanley McChrystal in charge of a commission on military families is a little like putting Bernie Madoff in charge of a commission on pensions," says Amir Bar-Lev, the director of a documentary about Corporal Tillman. Nonetheless, the White House says that "the president feels strongly that General McChrystal is the right person to help lead this advisory committee on this vital issue."
You can share this story on social media: