PTSD nightmare: July Fourth fireworks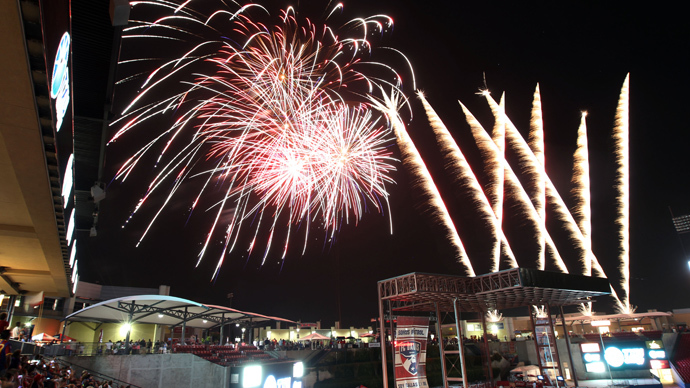 While millions of Americans joyfully celebrate the Fourth of July with backyard barbeques and fireworks, military veterans with post-traumatic stress disorder may choose to avoid the celebrations.
The fireworks can trigger severe anxiety and panic attacks in those suffering from PTSD, causing flashbacks to times of war, the US Department of Veteran Affairs said in a news release.
"It's upsetting to most veterans with PTSD. It's something they try to avoid," Dr. Jeffrey Fine, director of one of the department's PTSD programs, said in the release. As a result, some veterans choose to stay home or celebrate America's day of independence in a quiet area.
But John E. Mundt, a clinical psychologist at the Jesse Brown VA Medical Center in Chicago, told ABC News that the most significant problem is the smaller fireworks that may be set off before or after July 4 when veterans least expect them.
"The bigger problem is all the smaller fireworks that start getting used weeks ahead of July 4th and continue getting used for weeks after the holiday sometimes," Mundt said. "Nobody knows when one of these little loud blasts is going to occur. I've had clients have flashbacks when kids threw M80s into their alley or backyard, or when somebody lights off a string of firecrackers in their mailbox."
The sound of firecrackers, fireworks or other loud noises may remind veterans of wartime explosions, attacks and gunshots, triggering episodes in which they re-experience their trauma – especially when the fireworks come at an unexpected time. 
"Even with my recovery, the fireworks will kill me this week. The [fireworks] stands are all open," Samuel Askins, who served in operation Iraqi Freedom, told ABC. "Just last week, I went fishing and I put the boat in the water when a cherry bomb exploded. I fell out of the boat."
Retired Army Sgt. James Roberts, a Florida veteran who suffers from PTSD, told WPTV that he has spent each Fourth of July since returning from Iraq alone at his house in Lake Worth, afraid of the sights and sounds that he may encounter outside.
"I'm always on edge. I'm nervous," Roberts told the television station. "It's like having a constant shot of electricity continuously running through your body."
PTSD victims who recently returned from combat are most likely to suffer from severe symptoms. Veterans with PTSD often experience trouble sleeping, nightmares, anxiety, fear, and hyperarousal. Askins told ABC that he would lock himself in a closet, afraid of encountering a tornado. He would also drink large quantities of alcohol and take prescription painkillers.
Cherry bombs in trash cans reminded him of explosions in Iraq, and Askins grew paranoid and began hoarding ammunition and weapons. Panic attacks and a suicide attempt eventually landed him in jail, where he said he felt "safer than in the real world."
Although not every veteran suffers from symptoms as severe as Askins', celebratory fireworks are often enough to ruin Independence Day for tens of thousands of veterans. A 2012 report from the Department of Veteran Affairs found that 30 percent of the 800,000 veterans of Afghanistan and Iraq are suffering from PTSD. With fireworks easily accessible across the country, they could be going off unexpectedly at any time.
"There's a fireworks stand at nearly every major intersection around here, sometimes two," David Maulsby, executive director of the Houston chapter of the PTSD Foundation of America, told ABC News. 
But no matter how many years pass, some veterans may never be able to participate in the annual celebrations of America's birthday.
"I will have to deal with this for the rest of my life," Askins said.
And 26-year-old Pete Chinnici, a Marine veteran who served two tours in Iraq, told NBC that no matter how much he tells himself that fireworks pose no risks, he cannot stop his symptoms from flaring up.
"Even though you're aware that it may not be anything dangerous, probably just fireworks, your body still goes through the response," he said.