Overwhelmed law-enforcement miss ankle bracelet alarms
Published time: 29 Jul, 2013 17:05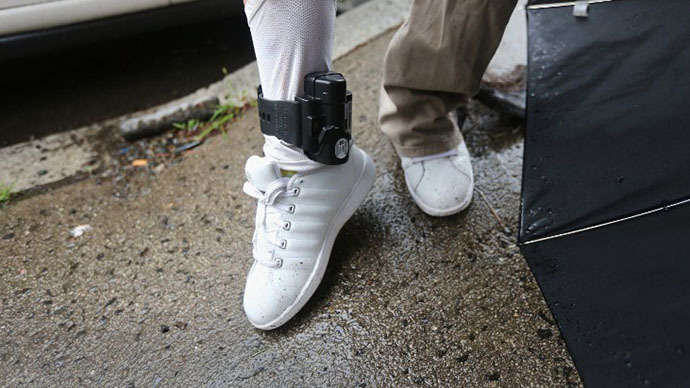 More than 100,000 parolees and sex offenders are wearing ankle bracelets in the US, but a new report found that police are ignoring tens of thousands of bracelet alarms, and in some cases allowing criminals to commit new offenses.
Electronic ankle bracelets are used to track an offender's location by sending radio frequency signals at timed intervals. Depending on the crime, parolees may be under house arrest, restricted from leaving a certain jurisdiction, or have a curfew. Tampering with the ankle bracelets or leaving a restricted area sends an alert to police, who are then required to check up on the offender.
But an AP investigation found that numerous agencies fail to respond to many of the alarms set off by the bracelets, and some don't have clear protocols on how to handle a high number of alerts. In some cases, authorities took days to respond to cases in which parolees tampered with the devices or broke their curfews.
"I think the perception … is that these people are being watched 24 hours a day by someone in a command center. That's just not happening," Rob Bains, director of court services for Florida's Ninth Judicial Circuit Court, told AP.
Throughout the US, AP found that 21 specific agencies logged a total of 256,408 alarms for 26,343 offenders in the month of April. The Texas Department of Criminal Justice has an average of 944 alerts per day. The Delaware department, which employed just 31 field officers, had an average of 514 alarms per day. And in Tennessee, a government audit found that 80 percent of alerts generated at the Board of Probation and Parole went unchecked over a 10-month period.
Criminal justice departments that are flooded with alerts are forced to sort through the notifications and decide which ones are appear serious enough to warrant a response.
But a nationwide lack of responses has occasionally allowed offenders to commit new crimes. With no one checking up on them, parolees and sex offenders are able to engage in further illegal activities.
Authorities in Syracuse, N.Y. ignored 46 alerts from child-porn suspect David Rentz. One alert was generated after he removed his ankle bracelet. He then raped a 10-year-old girl and killed her mother.
In another case, Colorado offender and white supremacist Evan Ebel tampered with his bracelet and killed two people, including Tom Clements, the executive director of Colorado's department of corrections. His ankle bracelet alarm had gone unchecked for five days.
"Technology is not going to automatically issue warrants for people. It just sends an alarm that says, 'This thing's been cut.' And for people to ignore it, what's the point?" said Colorado resident John Leon, whose son was killed by Ebel after the parolee tampered with his device.
Kelly Barnett, a member of the union representing probation officers in Michigan, told AP that it is impossible to track each offender every day, and that ankle bracelets provide "a false sense of security to the community."
California Sen. Ted Lieu had long pushed for harsher punishments for those removing a bracelet. He believes that ideally, offenders who are at risk to the community should be sent to prison rather than out on parole, but the state lacks the funds to pay for that. He believes that when when offenders tamper with their devices, their intentions are never good.
"Dangerous parolees do not cut off their GPS devices because they want to go to church unmonitored," he said.