California chalk protester hit with gag order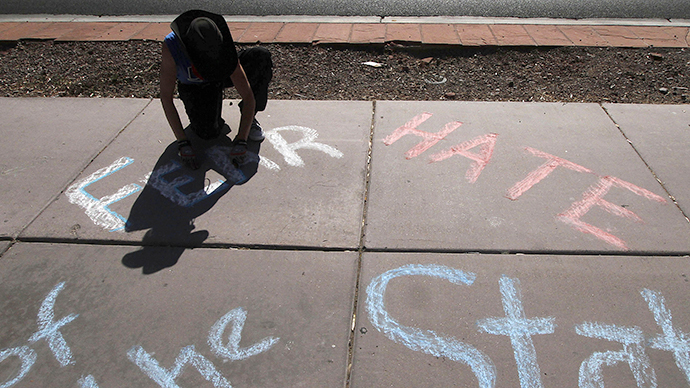 A California man facing more than a decade in prison for writing with chalk on public sidewalks has been told he's barred from discussing the details of his controversial case outside of court.
Judge Howard Shore issued a gag-order in a San Diego, California courtroom this week against Jeff Olson, a 40-year-old activist that used washable children's chalk to scribble anti-bank slogans in public space last year.
According to the San Diego Reader, the gag-order issued on Friday also applies to witnesses, members of the jury and potentially others, a measure that Truth-Out editor Mark Karlin said is "unprecedented" for a misdemeanor trial.
Olson has been charged with 13 misdemeanor counts of vandalism for chalking slogans such as "No Thanks, Big Banks" and "Shame on Bank of America" on the sidewalks outside of branches in the San Diego area throughout 2012. Now as the criminal trial against him wages on in Southern California, the defendant and anyone remotely involved in the case are reportedly muzzled by a ban that could bring media coverage of the case to a grinding halt.
The Reader reports that Judge Shore issued the gag-order during Friday's hearing after expressing his discontent with comments Olson made about his potential sentencing. According to the charge sheet filed by the city of San Diego, Olson could be subjected to $13,000 in fines and a maximum of 13 years in prison if convicted, prompting the defendant to make a myriad of remarks in recent weeks, including one to the U-T San Diego newspaper that called the prosecution, "an unconstitutional overreach and a total waste of taxpayer money."
Commenting to reporters on Friday, Judge Shore said a decade behind bars was "not going to happen" and insisted he "would be surprised if it ever happened to any defendant with no criminal record."
Shortly after those remarks, OIson read a note to the court that said in part, "This morning Judge Shore issued a gag order prohibiting all counsel and parties from commenting or expressing opinions on the case. All I am permitted to say is that I disagree."
As Karlin notes, Judge Shore's issuing of the gag-order came just days after Olson told reporters, "My chalk drawings are clearly free speech and protected by the First Amendment."
Speaking to CBS News previously, Olson defended his act of protest:
"Always on city sidewalks, washable chalk, never crude messages, never vulgar, clearly topical," he said.
Prosecutors in San Diego aren't amused with his work, however, and have discounted Olson's assertion that he was engaging in an act of free speech. Judge Shore said earlier in the week that Olson's attorney is prohibited from "mentioning the First Amendment, free speech, free expression, public forum, expressive conduct or political speech during the trial," but the issuing of a gag-order now limits much more than what was already decided.
Olson said that at the heart of his case is not the issue of vandalism, but an infringement on the right to free speech. He has accused San Diego City Attorney Jan Goldsmith of trying to stop him from talking because he has raked in heavy donations from the banks in the past, and is now reported to be eyeing a bid at the mayor's role in 2016.
"Jan Goldsmith has received campaign contributions from Bank Americorp and Merrill Lynch. I think this is mostly about Goldsmith for Mayor 2016," Olson told San Diego 6 News.
"IfI had drawn a little girl's hopscotch squares on the street, we wouldn't be here today," the activist added to KGTV News.
Bob Filner, the mayor of San Diego, issued a statement last week calling for the city to drop their case against Olson.
"This young man is being persecuted for thirteen counts of vandalism stemming from an expression of political protest that involved washable children's chalk on a City sidewalk," Filner wrote. "It is alleged that he has no previous criminal record. If these assertions are correct, I believe this is a misuse and waste of taxpayer money. It could also be characterized as an abuse of power that infringes on First Amendment particularly when it is arbitrarily applied to some, but not all, similar speech."
Goldsmith responded to the mayor's claims by defending the prosecution, saying, "We prosecute vandalism and theft cases regardless of who the perpetrator or victim might be."
"We don't decide, for example, based upon whether we like or dislike banks," Goldsmith told the U-T San Diego website. "That would be wrong under the law and such a practice by law enforcement would change our society in very damaging ways."
"I'm am not going out on a limb to say that this is outrageous," quipped Olson.
You can share this story on social media: