Record drought leaves food banks dry
Published time: 23 Nov, 2012 21:53
Edited time: 24 Nov, 2012 01:53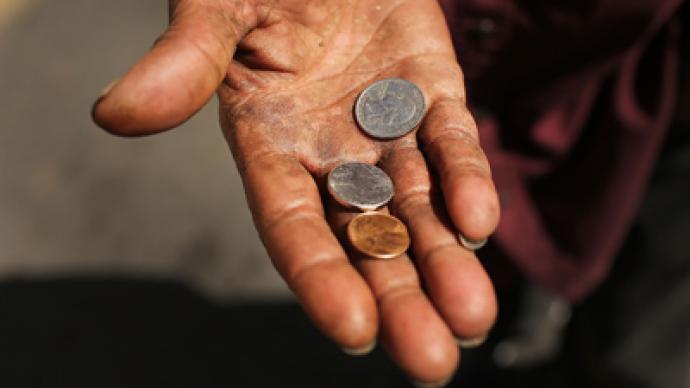 This past summer's record-breaking drought caused a nationwide food shortage and price hikes that left some Americans hungry this Thanksgiving. With food banks in short supply, it is more difficult for low-wage workers to find an affordable meal.
Food banks are charitable organizations that distribute food to low-income individuals who can't afford to buy groceries. Food banks also supply food pantries, charitable nonprofit groups, soup kitchens and emergency shelters. To remove surpluses, the US government buys leftover food and donates it to food banks. But the most recent drought, which was the worst since the 1930's Dust Bowl, caused a food shortage and significantly higher prices at grocery stores.
With fewer government donations, food banks are in short supply and some low-income families are not able to have much of a holiday feast.
Washington D.C.'s Capital Area Food Bank, which supplied 700 pantries and nonprofit groups, has seen a 38 percent plummet in donations this year, the Washington Post reports. Volunteers have been forced to compensate for the loss by trying to fill the gap in other ways. Some nonprofit organizations have purchased additional food themselves or substituted their usual meals with cheaper foods.
The Gethsemane United Methodist Church in Capitol Heights this year received scraps of chicken instead of turkeys. Volunteer outreach coordinator Anne White scrambled to collect full chickens from private donors in time for Thanksgiving.
"They would normally get a nice turkey breast," she told the Post. "I attribute it to the economic crisis – everybody has had to cut back."
Seven hundred miles away, a Chicago food pantry was also in desperate need for donations. With 500 to 600 low-income families lining up for food on a weekly basis at the St. Columbanus Food Pantry, workers of the depository had to hand out smaller rations. Rather than a 5 or 10 lb. bag of apples, hungry Chicago families were given just two – and not everyone received a turkey.
"Normally by now we are getting all of the root vegetables – fresh corn. But because of the drought, we don't have it," pantry director Laverne Morris told CBS News.
In Raleigh, N.C., the demand at the city's food bank has skyrocketed. Those who used to be in the lower-middle class and previously never needed assistance showed up at the food bank this year, Raleigh Food Bank president Peter Werbicki told WRAL TV.
"We are not keeping up with the demand," he said. Werbicki told reporters that his assistance load is up by 25 percent and the high cost of food is causing some families to starve.
"We've really been hit this year with the drought, really been hit," he said.
The shortage was felt nationwide in the days surrounding Thanksgiving, but perhaps most severely in New York City, where the aftermath of Hurricane Sandy put a financial strain on low-income hurricane victims. The Food Bank for New York City found that it was supplying 25 percent fewer pantries and soup kitchens than it was five years ago, even though 1.4 million New Yorkers rely on the assistance, the Wall Street Journal reported.
Benny Wechlsler, overseer of the Metropolitan Council on Jewish Poverty, told the Journal that before the hurricane struck, his group's Brooklyn warehouse was stocked with provisions that were expected to last through December. But when Sandy devastated the region, about 500 more people came each day until the resources were depleted in just two weeks.
During a struggling economy, the effects of the drought and the hurricane have taken a toll on the poorest of Americans, leaving many without the provisions they need to properly feed a family.