Drone surveillance quickly becoming routine in Colorado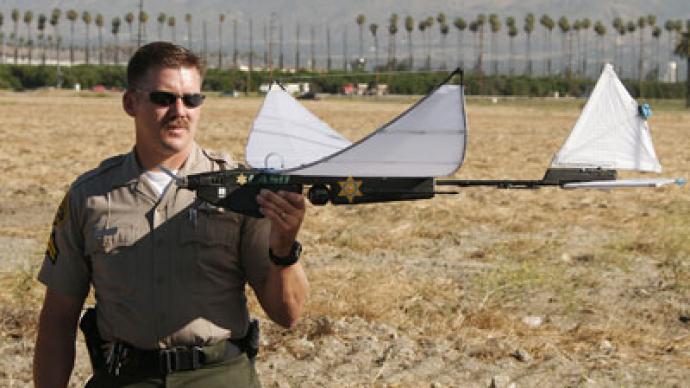 According to new information obtained from the Mesa County Sheriff's Office (MCSO), law enforcement there has relied on unmanned aerial drones for surveillance purposes since as early as 2009.
Investigative journalism portal MuckRock.com has filed several Freedom of Information Act requests with the Mesa County Sheriff's Department and has just begun publishing a number of documents they've received regarding the agency's use of unmanned aerial vehicles (UAVs), or drones.According to the materials obtained by MuckRock, the Mesa County sheriff has authorized his office to use its arsenal of drones for surveillance purposes "similar to a K-9 unit" that's deployed to search for suspects and contraband. The documents reveal that the MSCO has been testing UAVs since 2009, and today the department is "beginning to implement [drones] into day to day operations." Despite such frequency, though, the MCSO's drone use manual obtained through the FOIA request reveals that the agency has yet to publish an actual written policy that determines what kind of activity warrants the use of an UAV. Those missions in question consist of sending a high-tech aircraft into the sky to survey happenings across the county that on-the-ground officers might not be able to access otherwise. But while the Federal Aviation Administration (FAA) has restricted drone flights for the time being to be below 400 feet from the ground, MSCO's own drone program does not include any geographic limits, essentially letting law enforcement to look into events across the entire county. Notwithstanding FAA restrictions that preclude fights over "populated areas, heavily trafficked roads or an open-air assembly of people," the MSCO is allowed to operate its UAVs and the attached state-of-the-art cameras anywhere over the country. As MuckRock's Shawn Muscgrave reports, "this freedom has allowed the agency to log dozens of operational missions since fall 2010."The FOIA request reveals that Canadian UAV manufacturer Draganfly provided the MCSO with one Draganflyer X6 rotorcraft drone free of charge in 2009. In 2012, a second drone was acquired through a deal with Falcon UAV at a reported price tag of $14,000.Mesa County is one of only a handful of jurisdictions where drone use is already occurring, but that doesn't mean that others aren't interested. Just as the MCSO is using drones to do in-the-air surveillance, other law enforcement agencies across the country have appealed for aircraft of their own.Drones are "Very valuable to any tactical officer," Sherriff Greg Ahern of Alameda County, California told a local NBC affiliate recently. "As you're setting up your perimeters and knowing what the suspect may have in his hands, how the suspect is dressed, what are the avenues of escape?" he asked.With little safeguards in place and technology still largely untested, though, privacy advocates have raised a number of questions about drone use. In Colorado, those concerns are apparently too little too late. In all, two drones obtained by have logged a total of more than 160 flight hours since January 2011, including a handful of surveillance operations used to stake out crime scenes and track missing persons.
You can share this story on social media: