San Diego Sheriff's Department fights to keep drone facts a secret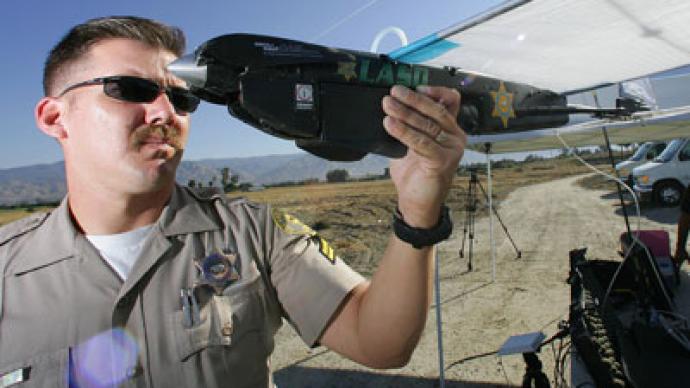 America's expansion of domestic drones is becoming an issue of public discussion, but some don't want it to be that way. The San Diego Sheriff's Department is now under fire for not being forthcoming with the facts about its own plans for UAVs.
The website MuckRock.com wants to know more about the San Diego, California Sheriff's Department's interest in unmanned aerial vehicles for surveillance purposes, but is having a hard time getting to the bottom of things. This week they've published a treasure trove of correspondence between some of their reporters and the Southern California law enforcement agency, and the back-and-forth conversations suggests that the Sheriff's Department isn't doing everything it should to be honest about their intentions.In July, MuckRock's Brandon Weiber filed a Freedom of Information Act request through California's so-called Sunshine Amendment to try and find out about any plans the San Diego Sheriff's Department has to acquire a drone. Requests for proposals, policies, departmental records and a bevy of other information was petitioned for in a plea sent July 12, but just a week later he was told, "The San Diego County Sheriff's Department has no records that are responsive to your request."Weiber, on the other hand, begs to differ.In September, Weiber sent a follow-up letter directing the Sheriff's Department to a sales quotation from Datron World Communications, Inc. detailing a drone that was being pitched to Sgt. Richard Williams of the San Diego County Sheriff's Dept., Special Investigations Division."Please confirm whether the San Diego Sheriff's Department has purchased or utilized the drone system for which we have the sales quotation, or any other drone/UAV systems. Additionally, please confirm that the San Diego Sheriff's Department has no further responsive documents for the entirety of our original request for records, reprinted below," Shawn Musgrave wrote back on behalf of MuckRock.A few days later, Musgrave wrote back saying they hoped to appeal the initial FOIA response because he found the Sheriff's Department answer unsatisfactory. "I have attached a copy of the sales quote for an aerial drone that MuckRock received last month. It is clearly prepared for the San Diego County Sheriff's Department, and as such constitutes a responsive document MuckRock has reason to believe exists," he wrote them, adding that the drone company themselves had provided MuckRock with information about the sales quote. "In light of these documents already in MuckRock's possession, I hereby request once again any documents related to UAVs/drones, including but not limited to email correspondence, memos, reports, video footage, sales quotes and contracts. Please include all documents related to Datron World Communications, Inc. in particular," he demanded.It has now been more than four months since MuckRock made their first request for the facts about any possible plans to add a drone to the Sheriff's Department's arsenal and, according to the last response from law enforcement, following through with the FOIA pleas doesn't serve a purpose. While the department does confirm that it does not own any drones — nor does it plan to right now — it doesn't see a reason why proving it is something the public would be interested in."The Public Records Act does not require a law enforcement agency to publicize every inquiry it makes regarding the possible purchase of equipment, particularly those inquiries that do not result in an equipment purchase," Sanford Toyen of the department's legal counsel wrote back. "A law enforcement agency must be free to gather information and weigh alternatives in confidence before arriving at a course of action. Moreover, there is very little public benefit in the release of such records, especially a video of a drone flight that did not result in an equipment purchase."MuckRock disagrees and is likely far from being the only one. The Federal Aviation Administration expects as many as 30,000 surveillance drones to be hovering in America's airspace by the end of the decade, but little information is publically known about unmanned aerial vehicles, except for their use overseas where they're equipped with high-tech fire power, transforming them into remote controlled killing machines. Militarized drones are unlikely to be coming stateside anytime soon, but the scary surveillance powers of camera-equipped UAVs is something that has a lot of Americans up in arms, especially since other agencies from coast-to-coast are scrambling to be among the first police departments to deploy domestic spy drones for the sake of so-called public safety. Even the US Department of Homeland Security has sent those agencies their blessing, and some law enforcement groups are asking for tens of thousands of dollars to help acquire their own UAVs. MuckRock is now awaiting another response from the Sheriff's Department after informing them that their explanation that "there is very little public benefit in the release of such records" is about as honest as their insistence that they don't have any files pursuant to their FOIA request."MuckRock is of the opinion that there is considerable public benefit in disclosing the requested documents. Police agencies across the country have expressed interest in acquiring UAV systems. The San Diego County Sheriff's rationale in implementing (or not implementing) drones is of considerable interest not only to citizens in San Diego County, but to people across the country because of the surveillance, data security and privacy issues posed by UAV technology," Musgrave writes in a letter sent November 8.