Spy drone could have almost brought down a plane in Colorado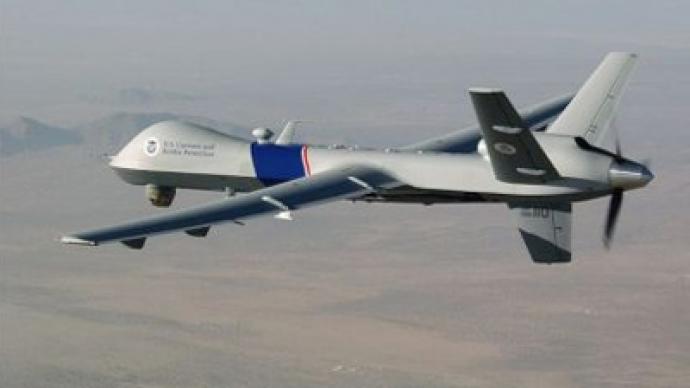 An airline pilot came close to crashing his plane near Denver, Colorado this week after encountering a mysterious object in the sky thought to be an unmanned drone aircraft.
A tape recording made available this week confirms that the pilot of a Cessna Citation 525 CJ1 radioed air traffic controllers outside of Denver on Monday after nearly colliding with an unidentified flying object. Several factors have suggested that the aircraft was most likely a robotic drone aircraft.According to the record, the pilot came close to hitting what he described as "a large remote-controlled aircraft." The Cessna's pilot says that the craft was encountered at around 8,000 feet above sea level, or 2,800 feet above the ground in near the highly elevated city of Denver. Speaking to reporters at 9News, a spokesman for the Federal Aviation Administration confirmed that the agency is attempting to make sense of the unusual encounter."The threat is there from a collision standpoint. We'll do as much as we can here to try to track back what time it was," the FAA's Mike Fergus says of the group's investigation.Greg Feith, a former investigator with the National Transportation Safety Board, adds to 9News that, whatever the pilot encountered, is a threat no matter how you look at it."That's an issue because now we have something in controlled airspace that poses a danger," says Feith."Was this an unmanned vehicle that was part of some sort of law enforcement operation? Was this somebody that had flown a large model aircraft inadvertently into the airspace? Or was it just [a bird that] caught the pilot's eye so he believed it was an aircraft but could have been a very large wing span bird," he adds.The FAA's Fergus voiced a theory that it the craft in question may had just been a small, civilian remote-controlled plane, but the president of a local model airplane club says that members of the Denver RC Eagles are not permitted to go more than 5,700 feet above sea level, leaving a window of more than 2,000 feet between where those crafts can soar and where the pilot spotted the object.The FAA is currently in the midst of drafting guidelines to permit surveillance drones similar to what the pilot described for law enforcement use across the country. The federal government currently has a fleet of crafts use to see from the sky, and several smaller agencies have confirmed that they have purchased drones as well. Once they have rules established, the FAA expects that as many as 30,000 drones will be in American airspace in the coming years.