Police drones to be equipped with non-lethal weapons?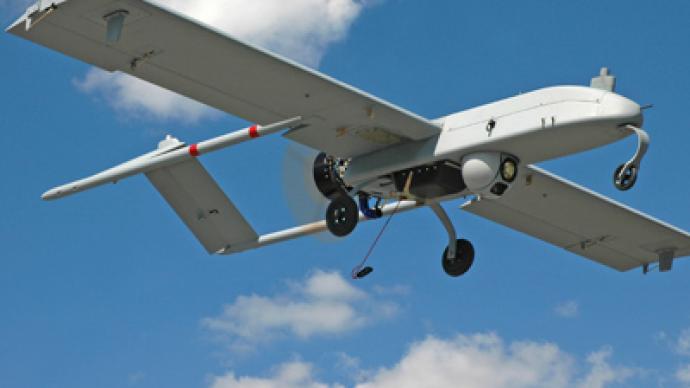 Law enforcement near Houston, Texas will soon have a $300,000 robotic surveillance drone in their arsenal, and if Montgomery County's chief deputy has his say, it's only a matter of time before that aircraft will be equipped to fire from above.
Discussing a new deal that will give the Montgomery County Sheriff's Office near Houston, Texas an unmanned, robotic spy drone, Chief Deputy Randy McDaniel tells The Daily that he hasn't rule out adding weaponry to the lightweight aircraft. The deputy says that while the department doesn't have any plans at the moment to acquire an army of drones equipped with weapons, he opines that it could be advantageous for some endeavors. On the topic of tacking a tear gas dispenser or a firearm that shoots non-lethal rubber bullets, McDaniel says it could eventually be an idea the department decides to go with."Those are things that law enforcement utilizes day in and day out and in certain situations it might be advantageous to have this type of system on the UAV," McDaniel tells The Daily, referring to the unmanned aerial vehicle the agency recently acquired.While Montgomery County will soon have one new set of eyes in its skies thanks to acquiring a pricey ShadowHawk drone, it is hardly the only small-time town that is getting such gizmos. Surveillance drones are already used across the southern United States and the US Department of Homeland Security has acknowledged that it has had a fleet of drones for watching its borders for years. The Federal Aviation Agency is also readying rules to guide the crafts once they are more easily obtainable and the Electronic Frontier Foundation has filed a lawsuit against the FAA's parent entity, the Department of Transportation, "Demanding data on certifications and authorizations the agency has issued for the operation of unmanned aircraft, also known as drones.""This is a tool that many law enforcement agencies never imagined they could have," Steven Gitlin of AeroVironment Inc. told the Los Angeles Times last year. His company currently ready to offer thousands of small drones for sale to small-time agencies like McDaniel's Montgomery County, but with the ShadowHawk able to do so much — and maybe even more as the sheriff's deputy has in mind — others are worried that this more drones will be the nail in the coffin of a collapse of the First Amendment already started by the recent passing of the National Defense Authorization Act and H.R. 347. "The biggest fear with domestic drones is the prospect of surveillance, the idea that Americans will simply be subject to surveillance by drones outdoors whenever they happen to go outside," Kirsten Bokenkamp of the Houston American Civil Liberties Union tells The Daily. For now McDaniels says that the ShadowHawk drone is on par with what any law enforcement agency should have in its arsenal. "You have news helicopters, military helicopters, private planes that fly over your house daily that have the same opportunity to see what you're doing just as easily as this UAV," he says. "We've never gone into surveillance for sake of surveillance unless there is criminal activity afoot," he adds. "Just to see what you're doing in your backyard pool — we don't care." With McDaniels contemplating equipping these crafts with non-lethal weaponry soon, the people of Montgomery Country — and eventually the rest of America — could see their concerns only adding up.
You can share this story on social media: