Citizen drone warfare coming to the streets?
Published time: 20 Dec, 2012 17:13
Edited time: 20 Dec, 2012 21:13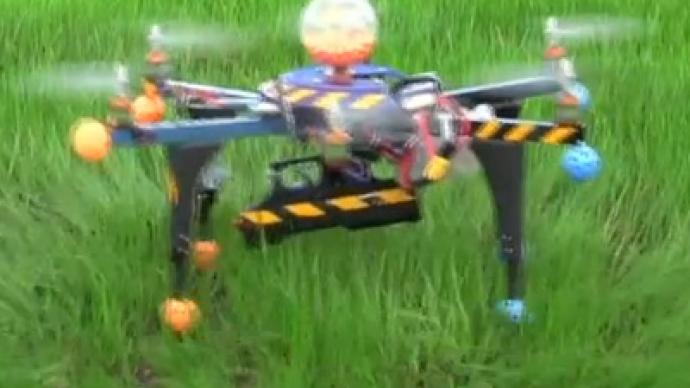 Here's a last minute do-it-yourself Christmas gift that's sure to surprise that special certain someone: an American drone enthusiast has successfully rigged a high-powered paintball gun to his own aircraft, and all for under two grand!
A West Coast man who goes by the alias "Milo Danger" has gone public with his latest DIY endeavor: a remote controlled unmanned aerial vehicle that can shoot targets with amazing accuracy while hovering 15 feet off the ground.
Danger uploaded footage of his project to YouTube earlier this month and has already received over 122,000 views. Now he's receiving some added attention too, though, after showing just how easy it is to assemble someone's own personal armed drone.
"Can a mail-order drone from a kit even handle the stress of rounds cycling through a gun? Is it accurate? Let's find out," Danger asks in the video.
"If the question is, 'How easy is it to fly this drone?' the answer is, 'terrifyingly easy,'" he tells the Washington Times in a recent interview. "The first time we flew it, we were able to put all of the paintball ammunition into a target 50 yards away from the operator — and 15 yards from the [drone] — in an area the size of a dinner plate."
Danger says he's "not particularly" handy, but managed to put together the entire project and get it off the ground in just a few weeks. In all, he says he spent maybe 12 hours' worth of time and under $2,000 to be able to send his own drone into the sky to shoot at targets.
"It was up and flying within a couple of sessions of working on it, and that's including trial and error and making mistakes," he tells the paper.
Surely things wouldn't be so simple with a real gun that fires lethal bullets though, right? The answer to that one is a resounding "no."
"There would be some practical physical considerations to mounting a real gun," he says, yet adds, "I don't think it would have problems staying in the air with many smaller firearms." For his aircraft, Danger mounted a paintball pistol weighing roughly 2 pounds, which he says is comparable to many actual handguns.
"Many pistols have significantly greater recoil. However, some guns have very little. And the onboard computer for the drone tries to keep itself level even if you try to knock it out of the air," he says.
In the video clip, the drone-gun maker admits that while equipping a consumer-grade unmanned aerial vehicle with a live firearm is "almost certainly a felony" it isn't all that hard.
"If this is what a novice with a small budget can accomplish, clearly this technology has a lot of potential," he notes. "Considering the growing popularity of these DIY devices, it seems inevitable that they are going to be used in ways that the inventors and manufacturers could have never imagined. It may not be exactly Skynet, but clearly we are entering into an age where drones are going to dominate the skies over the US and the world."
The YouTube video on the verge of going viral, "Citizen Drone Warfare," has now made its rounds to the offices of the American Civil Liberties Union. There, experts warn that Danger is indeed stumbling upon a point that is very, well, dangerous.
"Milo has performed a valuable service by dramatizing some of the dangers of this technology," writes Jay Stanley, a senior policy analyst with the ACLU's Speech, Privacy and Technology Project, who warns that entering a "drone age" is on the verge of becoming inevitable.
"We have called for strict restrictions on how the police can deploy drones, for example — basically only in emergencies or when investigating a particular crime," Stanley writes. "As far as civilian use, clearly, we cannot allow our skies to fill with flying robots armed with all manner of dangerous weapons."
If Stanley's warning of an impending drone age is even remotely accurate, though, Danger's video may be a much needed kick-in-the-pants for lawmakers to reassess drone use as they start to consider sending more of the aircraft into the sky. Although they won't be equipped with firearms, the Federal Aviation Administration predicts there will be roughly 30,000 UAVs in American airspace by 2020. Notwithstanding the obvious civil liberties concerns over how those surveillance drones will raise questions of privacy, putting even personal UAVs into the air with real weapons might just be wild enough to get a drone debates finally off the ground.
"I wanted to show an inevitability of what I think will happen with these drones," Danger tells the Times "I'm not advocating bad activities. But I wanted to raise some of the ethical issues we need to think about with this new technology."
And, as Jay Stanley puts it, the result is something he finds "pretty scary."