Kim Dotcom offers a deal to the FBI; dares them to deliver a fair trial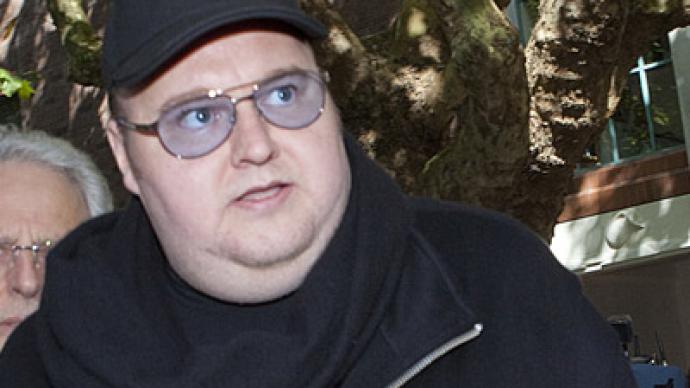 Megaupload founder Kim Dotcom says he will fly over to the United States if the American government wants to give him a fair trial, but insists they will refuse his offer because they know their case against the Internet kingpin is dead.
Only a day after the FBI moved an extradition hearing dealing with the fate of 38-year-old from August 2012 until next March, the man behind the world's most notorious file-storage site tells reporters that he is willing to work something out with the United States' Federal Bureau of Investigation.
Dotcom explains to the New Zealand Herald that as the US continues to delay their case against Megaupload.com and its management over alleged copyright infringement and conspiracy, each day is costing him greatly. The United States has imposed several restrictions on Dotcom's finances and frozen his assets while he awaits his hearing, and today he says that the US government is simply trying to deplete his resources until he can't afford his legal representation.
"I have accumulated millions of dollars in legal bills and I haven't been able to pay a single cent. They just want to hang me out to dry and wait until there is no support left," Dotcom tells the paper.
Now with his extradition hearing another eight months in the future, Dotcom says he will entertain the idea of flying himself to America if it means that he is guaranteed a fair trial, as well as money to pay his defense team and any living expenses for his lawyers and family.
In a tweet sent Tuesday afternoon, US time, Dotcom pleads with the Department of Justice to deliver on his request.
"Hey DOJ, we will go to the US. No need for extradition. We want bail, funds unfrozen for lawyers & living expenses," he writes from the @KimDotcom Twitter account.
"They will never agree to this and that is because they can't win this case and they know that already." he adds to the Herald, however.

In other tweets sent out on Tuesday, Dotcom also asks his online followers for help in rebuilding his Internet empire. According to a string of micromessages dispatched from his Twitter account, Dotcom is looking for the aid from "government supporting innovation [and] Internet freedom" as well as hosting and bandwidth providers across the world that do not do business in the United States.
"The US will lose plenty Internet business. Who wants it?" he asks.
A day earlier, Dotcom broke the news of the extradition hearing's new date via Twitter, declaring it just the latest "dirty delay tactic by the US."
"They destroyed my business. Took all my assets. Time does the rest," he wrote.
The US government says that through masterminding the Megaupload.com file storage site, Dotcom's operation cost the American entertainment industry upwards of half a billion dollars in revenue. The FBI ordered a raid of Dotcom's New Zealand mansion earlier this year, but the case has since been marred by a great deal of mix-ups, mostly at the hands of US authorities. Earlier this month a New Zealand judge called the warrants used in the raid "invalid," raising questions about the future of the case.
If Dotcom cannot legally be charged in New Zealand, the United States' attempts for extradition may be futile.
Last week Dotcom declared that Mega would return to the Web, writing on his Twitter account that he will bring back the operation "bigger, better, faster, free of charge and shielded from attacks."