Megaupload's Kim Dotcom is one step closer to US extradition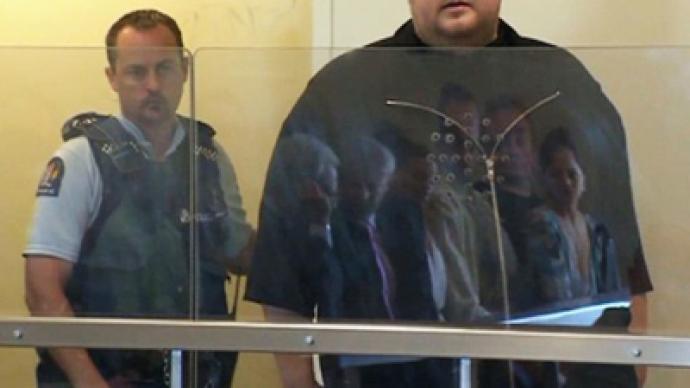 File sharing kingpin Kim Dotcom, the founder of the website Megaupload.com, was denied bail for a second time in New Zealand on Wednesday. Now Dotcom will spend the next month in jail awaiting an extradition hearing that could send him to the US.
Dotcom, a 38-year-old German born reformed-hacker, was arrested by authorities last week after an investigation led in part by American officials pinned the Megaupload founder as the figure that oversaw a massive Internet file-sharing ring. According to those involved in the raid last Thursday, Dotcom, born Kim Schmitz, allegedly duped millions of dollars from copyright holders by masterminding a vast online conspiracy that allowed users to navigate an easy-to-use platform for sharing media, such as movies and films. Dotcom was denied bail at a preliminary hearing following last week's raid, and on Wednesday, Judge David McNaughton ruled that the man would have to stay in lock-up until an extradition hearing next month."With sufficient determination and financial resources, flight risk remains a real and significant possibility, which I cannot discount, and bail is declined," Judge McNaughton ruled Wednesday.When authorities raided the lavish compound occupied by Dotcom last week, they recovered an arsenal of guns, credit cards and passports. Although his own attorney's insist that their client will not flee the country, authorities are concerned that, given the opportunity, Dotcom will vacate New Zealand if released on bail. Paul Davison, an attorney for Dotcom, tells the UK's Guardian that he was "very disappointed" with the judge's decision and will file an appeal. "The judge has agreed with much of what we have submitted but he has taken a different view on the issue of flight risk," Davison says.Now Dotcom's next legal hearing is scheduled for February 22, where authorities will hear a case from American officials that will attempt to extradite the Megaupload founder to the States for prosecution. US investigators insist that by operating the file-sharing site, Dotcom blocked the entertainment industry from around half-a-billion dollars in profits and, all the while, benefited immensely by selling ad-space and subscriptions on his website. In an official release that was published after last week's raid, the US Department of Justice says that "for more than five years the conspiracy has operated websites that unlawfully reproduce and distribute infringing copies of copyrighted works, including movies — often before their theatrical release — music, television programs, electronic books and business and entertainment software on a massive scale." Authorities seized around $50 million in assets in all from Dotcom's compound and have arrested several other Megaupload affiliates accused of being involved in the conspiracy. In a joint statement from the Justice Department and the FBI, the agencies write that  Megaupload is guilty of being "among the largest criminal copyright cases ever brought by the United States."Shortly before authorities took Megaupload offline last week, the website issued a statement saying, "The fact is that the vast majority of Mega's Internet traffic is legitimate, and we are here to stay. If the content industry would like to take advantage of our popularity, we are happy to enter into a dialogue." Within hours, however, the site was removed and Dotcom and his partners were placed behind bars. In the days that followed, several other similar file-sharing sites voluntarily adopted policy changes that more or less would keep them in the clear from further prosecution.So far US authorities have charged seven men in the Megaupload conspiracy and are on the look-out for two more that they believe have ties.
You can share this story on social media: