Cops in bankrupt Detroit forced to buy own uniforms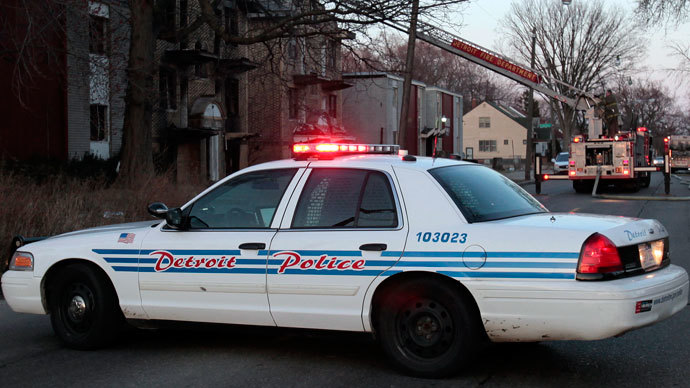 Patrolling the streets of bankrupt Detroit, Michigan is no easy feat for the local police department, and budget woes are about to make things ever for difficult for law enforcement officers in the Motor City.
The president of the Detroit Police Officers Association told a local CBS affiliate that city cops are going to have to empty out their own wallets if they want to remain fully equipped while on the job. The financially-devastated city is cutting back on spending left and right, and new slashes to the budget mean officers are going to soon be responsible for buying their own uniforms and ammunition.
According to remarks made by DPOA President Mark Diaz to Detroit's WWJ News, officers will be issued a single uniform upon joining the force. After that, every extra outfit they want to wear while on patrol is going to have to be paid for with their own money.
"It's obviously to the world the city of Detroit's in a fiscal state of emergency, so the funds really aren't being allocated to the uniforms as they should be," Diaz told the station.
Officers are awarded an annual stipend for clothing, Diaz added, but that amount is hardly enough to keep cops comfortable all year long, he told WWJ.
"[T]he stipend that an officer gets on an annual basis is not enough, truly, to keep the officers outfitted properly," Diaz said.
"The uniform just doesn't stop with the shirt, the hat and the pants," Diaz added. "[P]arts of the uniform such as boots, those aren't covered; and the true quality boots that last and that can live up to the rigors of patrolling in a city like the city of Detroit — that's an extra $300 on an annual basis."
According to the union president, some officers on the force make as little as $14 an hour, making just a pair of boots cost the equivalent of working for three days after taxes.
That, Diaz added, doesn't even take into account the money some officers may have to spend if they want to stay fully armed while out on patrol. Diaz told WWJ the officers are given ammunition for weapons qualification, but a cop who blows through his personal inventory — during target practice at a shoot range, for instance — may be forced to purchasing extra firepower on his own.
"Depending on how much extra time at the firing range that officer needs, now that number can go through the roof," Diaz said. "It's not uncommon for officers to spend thousands of dollars a year just on ammunition."
And in a city like Detroit, staying fully equipped is something that even citizens may want to consider. A recent Federal Bureau of Investigation report revealed that Motown ranked in third place last year with regards to the most murders, clocking in with 386 behind Chicago, Illinois and New York, New York. Upon publication of that report, Reid Wilson of the Washington Post wrote that, taking into account Detroit's population, those numbers equate to roughly one murder for every 1,832 residents in the city.
In July, Michigan Governor Rick Snyder said that despite the "best efforts" made by Detroit's Office of the Emergency Manager, the city was unable to reach a restructuring plan that would allow it to pay the $18 billion-plus it owes in outstanding debts. Gov. Snyder has tasked an emergency manager, bankruptcy effort Kevin Orr, to manage the city's finances and it attempts to avoid a total collapse.
You can share this story on social media: