Abandoned Motor City is turning into a dump - literally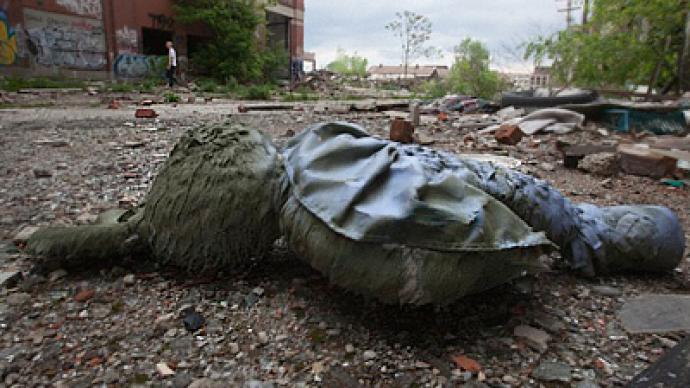 With hundreds of thousands having fled Detroit in the last decade alone, the city is turning into a deserted dumping ground for murder victims. And with its budget choked, the Motor City has had to cut back on its police force to boot.
A report published Thursday by the Associated Press tells of two bodies decomposing in an empty Detroit lot littered with tires and furniture. The teenage boys had been stripped to their underwear, shot, and then left to rot on one of the city's many abandoned, formerly residential blocks. They were only the latest in a string of murder victims whose remains lay for days before being discovered. Detroit has become a kind of agglomeration of rural patches contained inside an urban area, where what were once neighborhoods have turned into overgrown fields. Outsiders – and police – are unlikely to visit the inner wasteland of what some Americans now call the Murder City.The situation is a result of nearly fifty years of decay, after white residents started making their way to the suburbs in the 1950s. And after a vicious race riot in 1967, their mass relocation picked up in earnest. Over the next two decades, the city's black middle class followed, and blocks – sometimes neighborhoods – of empty houses and overgrown lawns are all that remain today.Tens of thousands of the city's homes have been falling apart over the years – some collapsing, while others have been demolished.And now, the deserted parts of town are quickly turning into dumping grounds for bodies – at a rate of about one corpse found every month for the last year. And those are only counting the victims authorities know of. Seventy-four-year-old Ella Dunn lives about a hundred meters from where 17-year-old Jacob Kudla and 18-year-old Jourdan Bobbish's bodies were found by a passerby on July 27; they had disappeared in Detroit five days earlier. Dunn's is the closest inhabited house from the scene of the crime, as she's watched nearly all her neighbors leave over the last 24 years. Today, the neighborhood is used mostly for dumping trash – and whatever else those passing through need to get rid of. A toilet, various furniture items, and several boats can be seen in a nearby parking lot. "They drive down and push stuff out," Dunn told AP.Earlier in July, two decapitated bodies were pulled out of the Detroit River and a canal nearby. City officials say they were shot and dismembered in suburban Allen Park, then brought to a deserted park in Detroit and dropped in the water. In December, the corpses of two women were found in a car left near an abandoned house. A week later, the charred remains of two other women were discovered in the trunk of another car. Police say all of them were murdered elsewhere, then brought to Detroit for disposal.
In search of solutions – and funding
Right now, there isn't much the city can do about it. Detroit lacks the money to level its staggering 30,000-plus abandoned houses, and has had to cut the police force's pay in recent years. Mayor Dave Bing is pushing a proposal that would use federal dollars to demolish as many of the houses as possible, with the State of Michigan pitching in as well. And with law enforcement scrambling to keep track of crime, Bing has some unexpected help. "The city has an annual tradition of burning homes on October 30th in an event called Devil's Night. The city is so desperate that it can't keep up with all the arsons," Nathan Manire, a New York-based artist from Detroit, told RT. In another possibility, the local government could buy up properties in mostly-deserted neighborhoods, leveling whole blocks in hopes of renewal sometime down the road. But, Dunn says, "I couldn't move if I wanted to. They don't want to give you any money for your house." Dunn's is one of only three occupied houses in her entire neighborhood. Bing will need the government's help if his plan is to succeed. With about 250,000 people having left Detroit since 2000, a city built for 2 million now houses a little more than 700,000 people. One of the results of that is that tax revenue is down, and everyone in town is feeling the effects. General Motors, one of the largest corporations headquartered in the city, made about $1 billion in revenue between January and March of this year – but due to its former bankrupt status, chances are it won't have to pay taxes for years to come.
Crime is always one step ahead
And the city clearly needs a more serious police presence – which it also can't afford. Officers recently took a 10 per cent reduction in pay.When officer John Garner joined the Detroit Police Department in 1999, he was only responsible for a 3.6-square-mile area, and would see another officer roughly three times over the course of any given hour. Today, he covers 22 square miles, and bumps into a colleague "maybe once every two hours," he said. Garner added, "if we know this, the criminals know this."And as cops spend their time trying to keep track of all the major offenses, residents take yet another hit. Manire said that inner Detroit's young people "have few options other than to turn to drugs or crime, and many set up shop on abandoned blocks and sell drugs on the corner." And since the city's police are spread so thin, he added, "there's little they can do."
You can share this story on social media: