Detroit students suspended for demanding education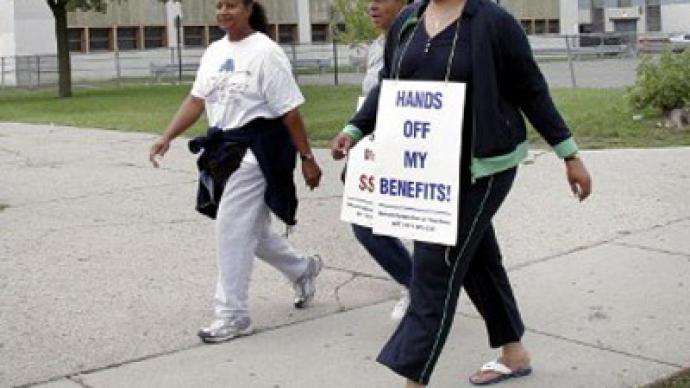 About 50 students from a high school in Detroit have been suspended after staging a walk-out to protest deteriorating conditions in the school. Public schools in the area have lost about 100,000 students during the past decade due to poor management.
Pupils from the boys' school Frederick Douglass Academy abandoned their classrooms over teacher shortages and a lack of resources on Friday.They gathered outside the building amid cries of "We want… education! When do we want it? Now!"Parents reportedly organized the march after the consistent absence of a number of teachers and the dismissal of the principal. Students had allegedly been out of lessons for weeks due to a shortage of staff.Parent and pupils alike were taken aback when Frederick Douglass was no longer listed as an application school in the district, meaning that current students had to re-apply to attend the next academic year."We've been wronged and disrespected and lied to and cheated," said senior Tevin Hill to local newspaper, the Detroit Free Press. "They didn't listen to us when we complained to the administration. They didn't listen to the parents when they complained to the administration, so I guess this is the only way to get things solved," he stressed.Parents have also accused teachers of abusing sick leave; one math teacher reported to have been off for more than 69 days in a row. As a result, students are now months behind with the syllabus.Detroit Public Schools spokesperson maintained that the district council remained dedicated to keep the school open and addressed the topic of negligent teachers saying "teachers who abuse sick time will be reprimanded."Hundreds of student staged a walk-out earlier in March at nearby Denby High over administrative changes at the school.Detroit's schooling system has suffered greatly over the past couple of years, with many public institutions having to close through a lack of funds and staffing. Arne Duncan, US secretary of education, had previously labeled Detroit as "ground zero" in the struggle for school reforms.Official government figures put unemployment in Detroit at below 30 per cent, but local authorities dispute this, claiming that it is in fact closer to 50 per cent.
You can share this story on social media: