Penn. train derailment leaks thousands of gallons of oil, sends car into building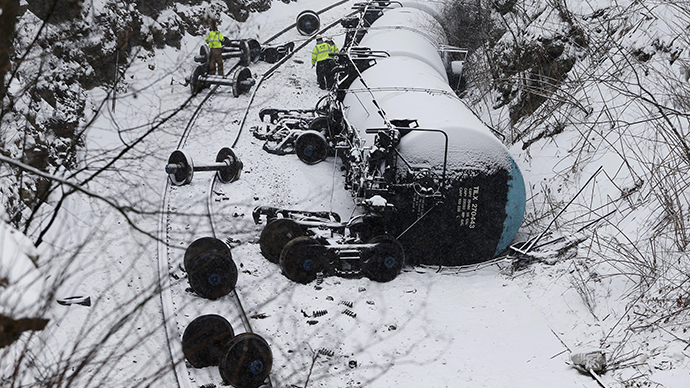 A 120-car train making its way across Pennsylvania derailed Thursday morning, spilling thousands of gallons of oil and alarming observers who have called for stricter safety standards on trains hauling hazardous material.
The train is owned by the New Jersey-based Norfolk Southern Corp -- company officials told Reuters that 21 tank cars went off the tracks at a turn near the Kiskiminetas River in Vandergrift, a small town in western Pennsylvania.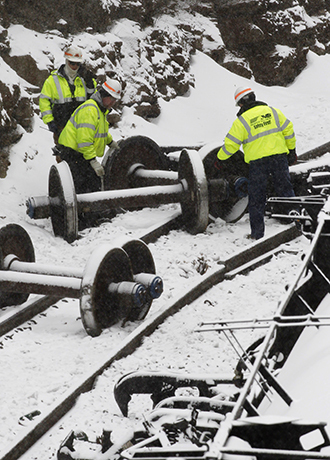 Nineteen of the cars contained crude oil while the other two held liquefied petroleum gas. Three of the 19 cars spilled as a result of the crash. Company officials maintained that the leaks were plugged but refused to say how many gallons of oil had spilled. Sources told the local WTAE-TV that an estimated 3,000 to 4,000 gallons had escaped the tanks.
"It's contained," said Norfolk Southern spokesman Dan Stevens. "The hazmat crews for the railroad are on site and will be taking care of that situation."
No one was injured in the accident. The Department of Environmental Protection sent a 3-member emergency response team to aid in the clean-up.
"It did not get into any streams or creeks," said DEP spokesman John Poister.
Residents said the derailment was tremendous enough to shake buildings and could be heard throughout the surrounding area. One of the loose cars slammed into a business, destroying equipment that is used to mill steel blocks.
"I heard a strange noise, a hollow, screeching sound," witness Ray Cochran, whose home oversees the railroad tracks, told Reuters. "I looked out the window and saw three or four tankers turn over and one of them ran into the building."
This accident comes less than two months after another large freight train derailed in North Dakota. While no one was hurt in that event, the derailed cars did leak oil which triggered a series of explosions that sent flames as high as 100 feet into the air. The city of Casselton, North Dakota had to be evacuated as the blasts shook the surrounding area.
A recent report from the Pipeline and Hazardous Material Safety Administration detailed just how serious the problem has become. Researchers found that, in the years spanning 1975 to 2010, 800,000 gallons of oil spilled from railroad tankers. Yet 2013 alone saw over 1.15 million gallons of crude oil leak from trains and into the environment.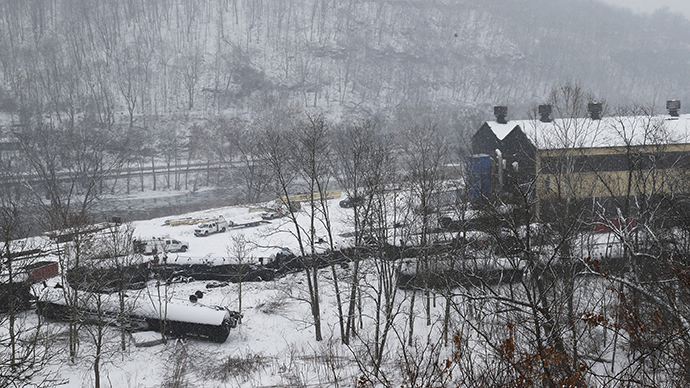 What has caused the surge in accidents is unknown, yet activists and lawmakers alike have called for change in order to stop such events before an entire town is devastated.
"Anyone who saw the video of that crash saw the fire that came out and the explosion," North Dakota governor Jack Dalrymple said in December after the Casselton explosion. "That visual leaves an impression on anybody, including oil producers. We do need some kind of provisional standard for the next year."
Still, officials in Pennsylvania are thankful the crash did not happen in East Vandergrift, where many more people live.
"The fortunate thing is it's happened within two hills where it's contained," Norfolk spokesman Dan Stevens told reporters. "The only car that went anywhere went into the building. If it had to happen, this is one of the better places for it to happen."
You can share this story on social media: