Engineer admits he 'zoned out' before deadly Metro-North train crash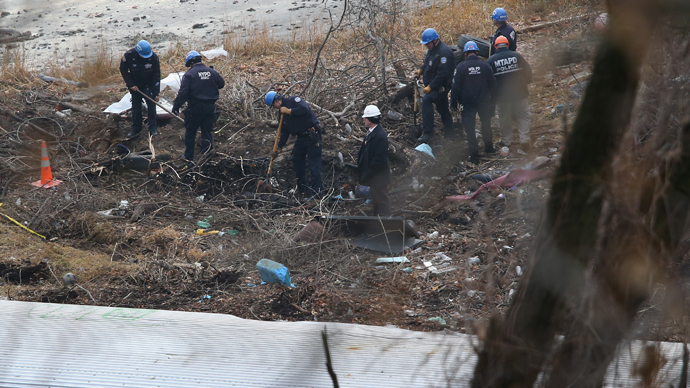 The engineer manning the train involved in a deadly crash Sunday morning in New York City "zoned out" moments before the incident, a person who claims to have spoken with him tells reporters.
Metro-North engineer William Rockefeller suffered a momentary lapse in attention, or "zoned out," when he let the train reach speeds upwards of 80 mph early Sunday in the Bronx, according to an unnamed source cited by reporters at both the Wall Street Journal and the New York Post on Tuesday.
"I think anybody who's ever driven a car and sort of gotten to that place where you're not really conscious, and then you snap yourself out of it, that's in effect what happened," the source told the Journal. "That is exactly how Billy described it."
Four people died in the crash, and more than 60 were injured, including Rockefeller, when the Metro-North passenger train he had been operating derailed while taking a curve at more than twice the speed limit.
"He was just somehow inattentive," the source told the Post, and didn't apply the train's brakes until it was too late. Authorities said on Monday that Rockefeller attempted to break just five seconds before the deadly derailment.
Investigators confiscated Rockefeller cell phone in the aftermath to see if he was distracted by it before the crash, but the National Transportation Safety Board has yet to release their findings. Toxicology tests have also been ordered to see if the operator had been drinking or using drugs before the incident, but officials believe at this time that he was sober.
"Part of our investigation, as in all investigations," NTSB spokesperson Keith Holloway told the New York Times, "is to look at human performance factors."

Andrew Cuomo, the governor of New York, said, "When the investigation concludes, we will make sure that any responsible parties are held accountable."
Investigators have preliminary ruled out a brake malfunction, but are awaiting further analysis to determine if a human error or faulty equipment was responsible for the crash.
"The answer is, at this point in time, we can't tell," NTSB member Earl Weener told reporters.
According to an unnamed source cited by the DNAinfo New York reporter Murray Weiss on Tuesday, Rockefeller "all but admitted he was falling asleep" just before the crash.
The Lohud Journal News in New York reported that Rockefeller has been a train operator for about 11 years and an employee of Metro-North for roughly two decades at the time of the crash, and also reportedly worked as a volunteer firefighter.
Rockefeller "is totally traumatized by everything that has happened," Anthony Bottalico, the executive director of the Association of Commuter Rail Employees, told the paper.
"He's a sincere human being with an impeccable record, that I know of," Bottalico added. "He's diligent and competent."