Deadly Indiana explosion leaves investigators clueless
Published time: 12 Nov, 2012 19:52
Edited time: 12 Nov, 2012 23:52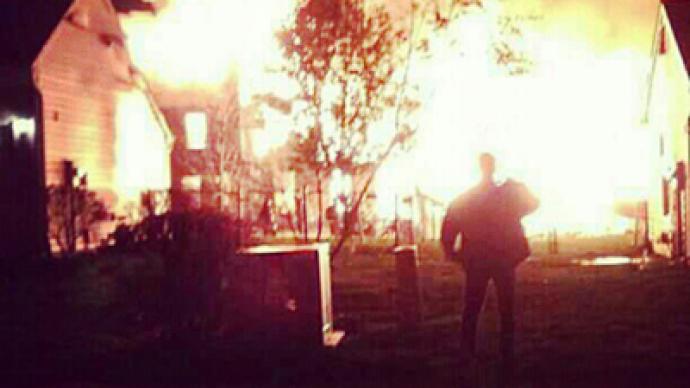 The cause of a deadly explosion that burned down parts of an Indianapolis neighborhood still remains a mystery.
­After two people were killed in what one resident compared to a "war zone", authorities said they still have no clue what caused the fiery blast.
The explosion, which occurred at 11 p.m. Saturday in Greenwood and spread across several blocks, forced hundreds of residents to evacuate from their homes – some of which were completely burnt down. Officials said they were shocked that only two people died in such a powerful blast. The noise from the explosion was so loud that people living three miles away were awoken from their sleep.
"It was deafening," one neighbor told CBS. "It was deafening inside our house. And I looked out the window and saw pieces of roof falling out of the sky. An explosion happened. It came two feet off the bed."
It took 100 firefighters two hours to get the fire under control and 80 homes were damaged from the fire. About 30 homes have been so damaged that they may need to be completely destroyed.
But an investigation into the cause of the explosion, which caused $3.6 million in damages, has so far yielded no results. Authorities found no evidence of a gas leak anywhere in the neighborhood and are now testing the gas main and the external lines to the homes. There were also no reports from residents about a rotten-egg smell, which is usually attributed to a chemical added to natural gas.
"Most of the time when there's a gas leak, people smell it," Citizens Energy spokesman Dan Considine told NBC News. "But not always."
The idea of a bomb or meth lab explosion was also ruled out, according to Rep. Andre Carson. Local residents are equally as confused about the cause of the explosion, which blasted out windows and made their homes tremble.
"I'm wondering about all the possibilities it could be," said 58-year-old state employee Dan Able.
Investigators from the National Transportation Safety Board and the federal Department of Transportation are now looking into the incident to see if they can solve the mystery. Those who lost their homes and were displaced are able to seek shelter at relief operation centers at an elementary school and a church.
"It could take some time," Indianapolis public safety director Troy Riggs told WRTV. "We've asked people to be patient."