NBC's David Gregory under investigation over assault rifle magazine
Published time: 26 Dec, 2012 21:00
Edited time: 27 Dec, 2012 01:00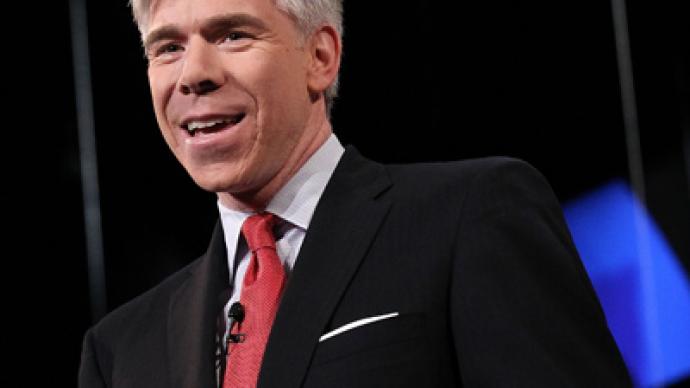 Moderator of NBC's "Meet the Press", David Gregory, is under investigation for breaking Washington, DC law by wielding a 30-round magazine during an interview with the vice president of the National Rifle Association (NRA).
DC law prohibits anyone from possessing, selling or transferring any large capacity ammunition feeding devices like the high-capacity magazine that Gregory had on his show. The NBC host was discussing methods that may have prevented or reduced the severity of the shooting in Newtown, Conn., which left 26 people dead earlier this month.
"Here is a magazine for ammunition that carries 30 bullets," Gregory said while holding up the casing. "Now isn't it possible that if we got rid of these – if we replaced them and said, 'Well you can only have a magazine that carries five bullets or 10 bullets' – isn't it just possible that we could reduce the carnage in a situation like Newtown?"
The host of "Meet the Press" was questioning NRA Vice President Wayne LaPierre about a civilian ban on high-capacity magazines that allow a firearm owner to shoot dozens of bullets at a time. But while the prop might have added to the discussion, it may have also gotten Gregory into legal trouble in the District of Columbia, where the law prohibits bringing magazines into the District.
"The Metropolitan Police Department is investigating this matter," police officer and spokesman Araz Alali told Politico.
Although the DC code prohibits the possession of large capacity ammunition feeding devices and NBC was denied a request to bring one onto the show, the studio decided to ignore the police.
"NBC contacted (the DC Metropolitan Police Department) inquiring if they could utilize a high capacity magazine for their segment. NBC was informed that possession of a high-capacity magazine is not permissible and their request was denied," police spokeswoman Gwendolyn Crump told Politico on Wednesday.
The maximum penalty for conviction on a charge of possessing, selling or transferring a high-capacity magazine is a $1,000 fine and a year in prison.
After Gregory brought the magazine onto the show, a White House petition was created by Americans calling for authorities to press charges against the NBC host. The petition had about 8,000 signatures Wednesday afternoon and needs to reach a total of 25,000 by Jan. 22 in order to receive an official response from the White House.
"David Gregory is not above the law; he is a journalist, and must be held accountable to the same law as every other person," the petition says. "We The People demand that he be formally charged for violation of this law on 'Meet the Press.'"