Pentagon's X-plane: any target on Earth in an hour by 2016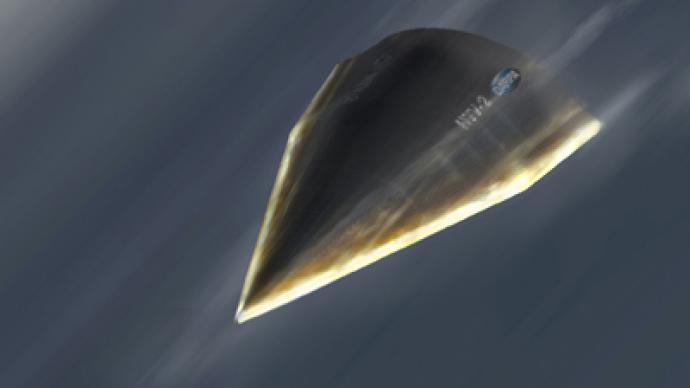 Don't you hate it when you have to ship something from the North Pole to Antarctica and only have an hour to spare? The Pentagon's space-age researchers might be able to fix that, and as early as 2016.
The Defense Advanced Research Projects Agency, or DARPA, says that an unmanned hypersonic vehicle that soars through the sky at 20 times the speed of sound could be ready within the next four years. If researchers can make that goal, DARPA scientists will be able to give the government the ability to propel their Hypersonic Technology Vehicle 2 (HTV-2) — the so-called "X-plane" — to anywhere in the world in a matter of minutes.Anywhere in minutes? That's the plan. By shooting the X-plane through the air at Mach 20 — or around 13,000 miles per hour (20,900 kph), the military will be able to attack even the most remote, far away targets if the vehicle can be equipped with weaponry. The plan is part of an ongoing mission conducted by the Conventional Prompt Global Strike weapons program, which the military hopes will eventually allow Americans to strike anywhere in mere minutes.What can be accomplished in the next few stages of research, of course, will be crucial in figuring out exactly what can be done. One big hurdle, for example, is figuring out how to handle the 3,500 degrees Fahrenheit temperatures the vehicle will experience at such a fast speed. Scientists say that the craft will be "recoverable," though, in that, once dispatched, the control team will be able to collect the X-plane and re-use it, ideally, for other missions. "We do not yet have a complete hypersonic system solution," Gregory Hulcher, director of strategic warfare at the Office of the Under Secretary of Defense for Acquisition, Technology and Logistics, says in a statement. "Programs like Integrated Hypersonics will leverage previous investments in this field and continue to reduce risk, inform development and advance capabilities."In August of last year, DARPA launched an X-plane prototype and was able to control it for several minutes at Mach 20 before the craft unexpectedly flew itself into the ocean. Following that failed mission, DARPA director Regina Dugan issued a statement saying that data from that attempt will give the Pentagon "a better understanding of overall system capability and flight dynamics — how far it can fly with more accuracy."
You can share this story on social media: