Top NY state counterterrorism official used a gun as laser pointer - report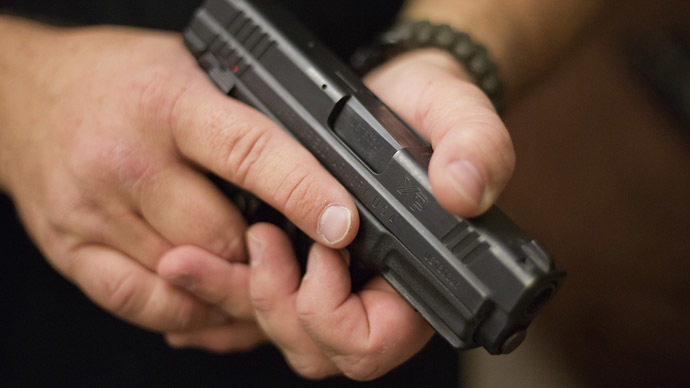 One of the top New York State administration officials terrified a contingent of foreign leaders last year when, in a state presentation in which he used a laser pointer attached to a handgun, he pointed the weapon at the crowd, according to a new report.
Jerome Hauer, Governor Andrew Cuomo's commissioner of the Division of Homeland Security and Emergency Services for the state of New York, was delivering a slideshow presentation about the state's preparedness for Hurricane sandy on October 24, 2012. Hauer was speaking at the highly secure state emergency operations center in Albany.
Hauer was using the laser aim on his gun to point emphasize sections of the slides. At one point, according to eyewitnesses who spoke to the Albany Times Union, the laser pointer crossed over three Swedish managers seated in the crowd, the small dot terrifying them as it made its way to the presentation slides.
The commissioner suffered a stroke in the years prior to the two-hour meeting in question and can at times appear unsteady. Yet he is not a police officer or any other kind of law enforcement official, and carrying a loaded 9-millimeter Glock into state buildings appears to be a violation of New York law.
The Times Union noted that the emergency managers "were rattled when the gun's laser tracked across one of their heads before Hauer found the map of New York, at which he wanted to point" and that at least two people "moved quickly out of the line of the laser when he brought out the gun."
Questioned by reporters, Hauer said only that they "have bad sources." Peter Cutler, Hauer's communications officer, said only "I've heard rumors" and that he would investigate the claims further in the future.
"Your guess [as to what happened] is as good as mine," Cutler said. "I don't have any information on that. I don't even know if he carries a weapon."
It is well-known throughout the capital that not only does Hauer carry a weapon but employs guards and personal staff who are usually armed as well, according to the paper.
Hauer, an expert on bioterrorism security, is currently paid $136,000 annually in his position and previously served as director of the New York City Office of Emergency Management under New York Mayor Rudy Giuliani. He is reportedly under consideration for a liaison position between the Cuomo administration and the government of New York City Mayor Bill de Blasio.
You can share this story on social media: