Sheriffs across US refuse to enforce tougher gun laws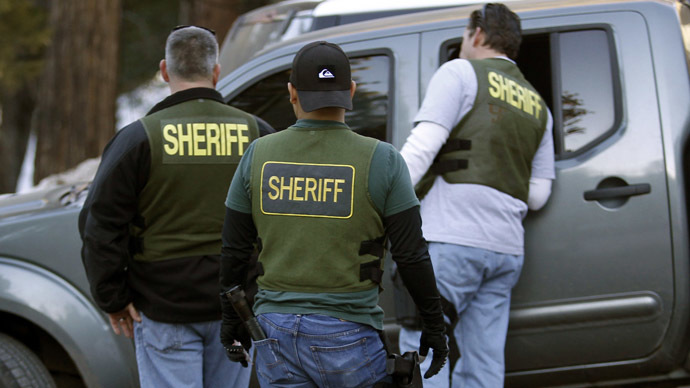 Sheriffs across the United States are refusing to implement new gun control laws passed by state legislatures, according to a report by the New York Times.
The numbers are particularly high in Colorado, where the majority of sheriffs have come out against the state's new gun laws, including provisions requiring background checks for private gun sales and the banning of magazines over 15 rounds. Fifty-five of the state's 62 elected sheriffs joined a federal lawsuit filed in May arguing the new laws are unconstitutional.
Even for some of those that didn't sign onto the lawsuit, enforcement of Colorado's new gun restrictions isn't high on their list of priorities.
"All law enforcement agencies consider the community standards — what is it that our community wishes us to focus on — and I can tell you our community is not worried one whit about background checks or high-capacity magazines," said Sheriff W. Pete Palmer of Chaffee County, Colorado, to the Times.
Last month, a federal judge ruled the sheriffs did not have standing to sue as a group, but that the court would still rule on the Constitutionality of the laws in question.
Regardless of the outcome, Colorado Department of public Safety Spokesman Lance Clem told the Times that when it comes to enforcing the law, sheriffs have significant latitude to make their own decisions.
"We're not in the position of telling sheriffs and chiefs what to do or not to do," he said. "We have people calling us all the time, thinking they've got an issue with their sheriff, and we tell them we don't have the authority to intervene."
While Colorado seems to be at the center of this gun control struggle, sheriffs in other states are also resisting attempts to curb the effects of new legislation. In New York, two sheriffs have already declared they will not enforce new laws passed by Governor Andrew Cuomo. State and local police file most felony gun charges in New York, but nonetheless Cuomo called the sheriffs' decisions "a dangerous and frightening precedent."
Meanwhile, a group of sheriffs in California attempted to convince Governor Jerry Brown to veto legislation that would outlaw semiautomatic rifles with detachable magazines and the sale of lead ammunition for hunting. Brown ultimately vetoed the rifle proposal but signed the ammunition bill.
"Our way of life means nothing to these politicians, and our interests are not being promoted in the legislative halls of Sacramento or Washington, D.C.," Sheriff Jon E. Lopey of Siskiyou County, California, said to the Times. He was one of the officials who met with Brown, and noted that he was not particularly interested in enforcing gun laws in his jurisdiction.
Hoping to counter some of the sheriffs are police chiefs who say the laws are already yielding positive benefits. In Colorado, nearly 3,500 background checks have been run on private sales since the law was passed, and the state's bureau of Investigation has halted 70 separate gun sales.
Still, the new gun control laws have sparked a great deal of controversy in Colorado, where two state senators were recalled due to their support for the legislation. A third senator, meanwhile, chose to resign instead of face a recall.
And while successfully passing gun control laws ended some political careers in the state, the effort to take them off the books has given birth to others. Colorado Sheriff John Cooke is running for the State Senate in 2014, and he made it very clear where he stands on the issue.
"In my oath it says I'll uphold the U.S. Constitution and the Constitution of the State of Colorado," he said. "It doesn't say I have to uphold every law passed by the Legislature."
You can share this story on social media: