Cops kill mentally ill teen after parents call police to help him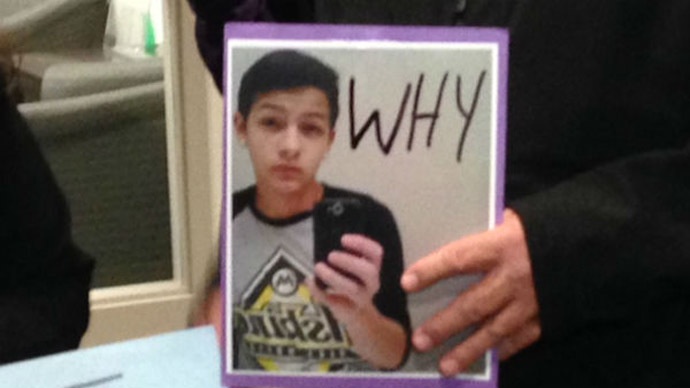 A Boiling Springs Lakes, North Carolina family is looking for answers after local police shot and killed their mentally ill teenage son while responding to a call for help.
The family contends that Keith Vidal, 18, was "killed in cold blood" after police were requested to help calm the teenager down during a schizophrenic episode.
Now, the North Carolina State Bureau of Investigation has decided to look into the matter, as Brunswick County District Attorney Jon David vowed to meet with the family and "go wherever the truth leads in this case."
"The public deserves to have a process put in place that will lead to the most just resolution," he said, according to NBC News.
The incident occurred on Sunday, January 5, when Vidal suffered from a mental breakdown in which he threatened to fight his mother. He was holding a small screwdriver in his hand when the first of three police units arrived at the scene. A confrontation was noted in the county event report obtained by local WECT, but the responding unit radioed in multiple times that the situation was under control.
Little more than a minute after a third police unit arrived, it reported that a gun was fired in self-defense.
According to the teenager's father Mark Wilsey, however, Vidal posed no danger to anyone. He said the screwdriver in his son's hand was small and not a threat, while the family noted that the young man had just turned 18 and weighed 90 pounds. Wilsey said that Vidal had been subdued until the third officer walked in and the boy became agitated.
"Then all of a sudden, this Southport cop came, walked in the house [and said]: 'I don't have time for this. Tase him. Let's get him out of here,'" Wilsey told NBC. After the stun gun was used on Vidal, Wilsey said the third officer shot him, saying he was protecting his officers.
"He reached right up, shot this kid point-blank, with all intent to kill," Wilsey added. "He just murdered him flat out."
Southport Police Chief Jerry Dove said in a press conference that Detective Byron Vassey, a nine-year veteran of the force, had been placed on administrative leave following the incident. Dove would not say whether Vassey was the officer who fired the gun.
As WECT noted, Vidal's mother, Mary Wilsey, said she tried to get her son help on multiple occasions. The family added that their daughter was just recently killed in a car accident, making Vidal the second child they'll have to bury.
Neighbors, meanwhile, said that while Vidal suffered from depression, he played with their children and never hurt anyone.
You can share this story on social media: