Colorado drivers claim 'license plate profiling' after marijuana legalization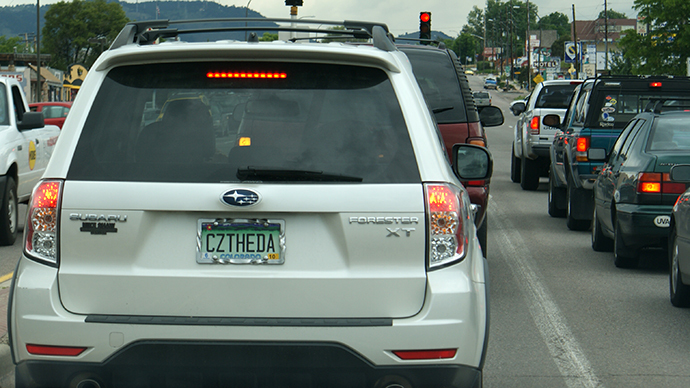 The legalization of recreational marijuana use may be bringing some tourists into Colorado, but local residents driving out of state are now reporting multiple episodes of what they believe to be "license plate profiling" by police.
According to Yahoo News, there's been a rise in such accusations among Colorado citizens ever since the state voted to legalize marijuana in 2012. Multiple residents driving in other states have reported being stopped by police for no reason other than to have their car searched for pot.
One such case reportedly occurred in January, when a state trooper in Nevada pulled over Colorado resident David Adkins near Las Vegas. According to local news outlet KRDO, Adkins said the state trooper was actually trailing another target for speeding when he quickly changed targets and began following Adkins.
The incident occurred less than a month after stores in Colorado began selling marijuana, and Adkins believes it's clear he was stopped for potentially carrying the drug, which has only been legalized in two US states.
"There was no reason for him to pull us over," Adkins told the station. "Why did he pull us over? Only because we had a Colorado license plate and he stuck his head right in there and started sniffing as soon as he came up to the car."
Adkins said the trooper claimed he was swerving on the road, but that he did not ask for a license or vehicle registration.
No pot was found, but Nevada state police said swerving qualifies as probable cause to pull an individual over.
Meanwhile, local Fox 31 reported on another January incident last week, when it recounted Darian Roseen's claim that Idaho state police for allegedly using his Colorado license plate as a reason to pull him over. The 70-year-old retiree was searched for pot multiple times, and is suing the police for their behavior.
"From the facts and even the video of the dash cam of the police car, the conversation turns quickly from a lane change violation to, 'Where is your marijuana?'" Roseen's attorney Mark Coonts said to the station.
Again, no pot was found after the searches, and the police declined to comment on the matter due to pending legislation.
As noted by Fox 31, however, numerous state law enforcement agencies are on alert for residents who could be potentially transporting marijuana into their states.
"Troopers are always alert to criminal activity so they will still be watching for those who possess marijuana or are transporting it," Wyoming Highway Patrol Sergeant Stephen Townsend said in January.
That explanation doesn't sit well with Coonts, who argued police cannot draw such conclusions based on an individual's license plate or their place of residence.
According to KRDO, the station's Facebook page has been sprinkled with similar stories. One commenter said they "Got pulled over in Illinois for having Colorado plates. They searched my truck and trailer." Another, meanwhile, said that "not only do the cops pull you over, every pot head around asks us to sell to them when they see your plates."
You can share this story on social media: