Obama to 'bypass Congress' on CISPA with cybersecurity executive order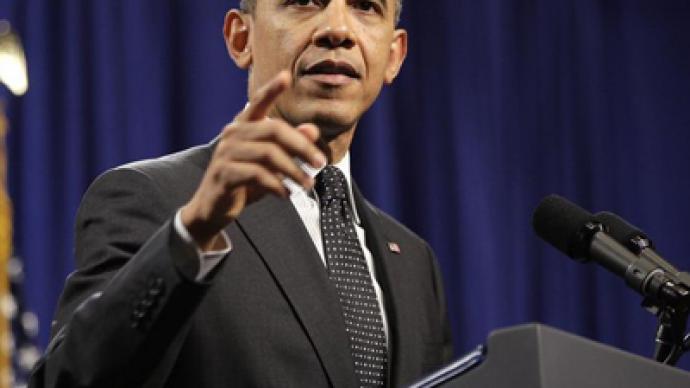 Unable to reach a deal with Congress, President Obama plans to use his power to exert executive actions against the will of lawmakers. The president will issue orders addressing controversial topics including cybersecurity.
Although President Obama has issued fewer executive orders than any president in over 100 years, he is making extensive plans to change that, Washington Post reports quoting people outside the White House involved in discussions on the issues. Due to conflicts with a Congress that too often disagrees on proposed legislation, Obama plans to act alone and is likely "to rely heavily" on his executive powers in future, according to the newspaper.Obama's first executive order is expected to be issued this week when the president calls for the creation of new standards on what private-sector companies must do to protect their computer systems from a cybersecurity breach.The order is a direct response to Congress' refusal to pass the Cyber Intelligence Sharing and Protection Act (CISPA) last year, which the administration deemed crucial to prevent crippling attacks on the nation's infrastructure. But members of Congress who opposed the legislation cited serious privacy concerns with giving the government greater access to Americans' personal information that only private companies and servers might have access to.Despite opposition from lawmakers, the president will use his executive powers to issue an order addressing cybersecurity initiatives."It is a very dangerous road he's going down contrary to the spirit of the Constitution," Sen. Charles E. Grassley (R-Iowa) told the Washington Post. "Just because Congress doesn't act doesn't mean the president has a right to act."But the president has increasingly been issuing executive orders, including 23 actions addressing gun violence after the shooting at Sandy Hook Elementary School. The 23 orders angered lawmakers who are opposed to tighter gun legislation. Sen. Rand Paul (R-Ky.) accused the president of demonstrating a "king complex" by exerting so many orders.Major executive actions implemented by the president also include orders delaying deportations of young illegal immigrants and orders to lower student loan payments.The president plans to have a greater impact during his second term by increasing his number of executive actions. He is currently considering extending anti-discrimination protections for homosexuals employed by the government and working with the Environmental Protection Agency to regulate carbon emissions. He is also planning to allow nearly 11 million struggling homeowners to refinance their mortgages at low interest rates.The White House has made it clear that if Congress continues to disagree on issues that Obama considers important, the president will go ahead and use his power to pass new laws on his own.And even though the president has passed executive orders at a lower rate than most of his predecessors – including former Presidents George W. Bush and Bill Clinton, doing so has not come without criticism."Obama's increasing reliance on executive orders to push policy and skirt congressional deliberation is worrisome," tweeted Sen. Ted Cruz (R-Texas).The president is expected to reference some of his imminent executive actions in his State of the Union address on Tuesday.
You can share this story on social media: