Would-be border agents confess to rape, drug smuggling and other crimes under polygraph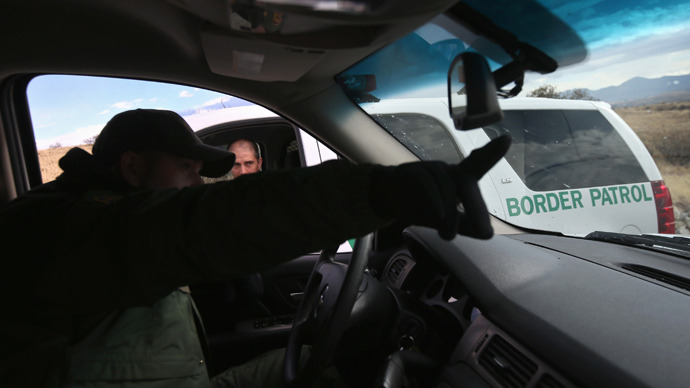 "You're not going to get the job if you've murdered someone," said Barry Cushman, president of the American Polygraph Association. It might be an obvious point, but a new report shows more US Border Protection applicants may want to heed the advice.
According to the Center for Investigative Reporting (CIR)'s investigation, records of more than 200 polygraphs reveal a perplexing and often shocking number of admissions made by candidates vying for a spot with the US Customs and Border Protection. The polygraph exam, which is the last phase of the agency's hiring process, was instituted in 2008. Since that time over 15,000 individuals have taken it - and 60 per cent have failed.
As the report highlights, it is difficult to know what portion of the more than 60,000 employees of the bureau may have slipped through the polygraph exam, either by somehow beating the test or by avoiding it prior to 2008. Regardless, a recent Government Accountability Office report showed that misconduct among current employees is on the rise, registering a 62 per cent jump from 2006 to 2011.
According to Customs, all border enforcement applicants consent to allowing any admissions made during the polygraph test to be shared with other law enforcement agencies - and that is exactly what has happened during some of the more shocking cases.
Last year, for example 22-year-old applicant Cody Slaughter of Arizona admitted to his examiner that he had sexually assaulted a two-year-old, and engaged in multiple acts of bestiality. Slaughter was subsequently arrested for suspicion of sexual contact with a minor, as well as three counts of bestiality.
Other admissions during the polygraph phase have included everything from flagrant drug smuggling cases, to human smuggling to having been involved in a deadly car crash. 
And the confessions only get weirder.

"Applicant had no independent recollection of the events that resulted in a blood doused kitchen and was uncertain if he committed any crime during his three hour black out," a Customs and Border Protection summary of one applicant's file reads.
Just as troubling, the agency has also disclosed "dozens" of attempts to infiltrate the agency, including by individuals believed to have links to organized crime and who had received special training meant to defeat the polygraph examination.
Congress first became concerned in 2010 that Customs was "under siege" by infiltrators, and so made polygraphs mandatory for prospective applicants. Statistics show that it was likely the right move to make; an internal agency study found in 2010 that employees who had not been subjected to a polygraph were more than twice as likely to engage in misconduct.

Customs experienced a hiring surge beginning in 2006, and since then arrests of employees for misconduct have been on the rise. According to the Committee to Protect Journalists, a total of 2,170 reported employee arrests were recorded between October of 2004 and September of 2012.
You can share this story on social media: