Hundreds of thousands of college graduates work minimum wage jobs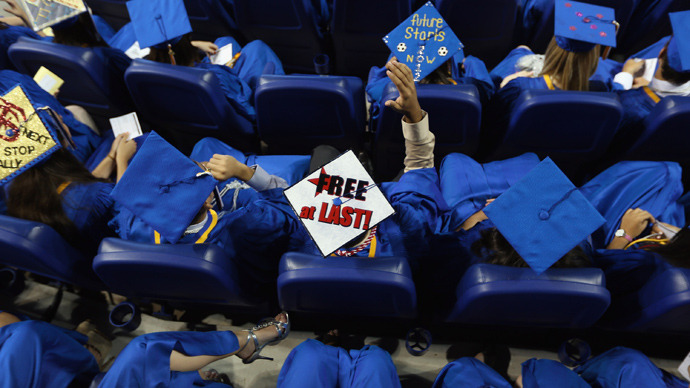 Equipped with pricey degrees and weighed down by loans that may take decades to repay, nearly 300,000 Americans graduate from college, only to find themselves working minimum-wage jobs that can barely pay for rent.
College-educated Americans are being thrust into poverty while increasingly finding that their degrees have no value in the work force. About 280,000 Americans with bachelor's degrees and 37,000 with advanced degrees were working minimum-wage jobs in 2012, the Labor Department reports. The number of college-educated Americans working such jobs has risen 70 percent in the past 10 years. It is also double the number who worked minimum-wage jobs before the Great Recession.
In 2002, college graduates made up 13 percent of all hourly workers. In 2012, they made up 17.8 percent.
Overall, college grads typically earn more than their non-educated counterparts, but this gap is growing smaller as more Americans are finding themselves financially insecure. Nearly 50 percent of college graduates from the class of 2010 are now working jobs that don't require a bachelor's degree, while 38 percent of these graduates are working jobs that don't even require a high school diploma, according to the Center for College Affordability and Productivity.
Research conducted by the National Bureau of Economic Research found that the economy's decline has largely pushed low-skilled labor workers out of the job market completely, while providing highly educated Americans with minimum wage jobs.
"After two decades of growth in the demand for occupations high in cognitive tasks, the US economy reversed and experienced a decline in the demand for such skills," the paper says. "The demand for cognitive tasks was to a large extent the motor of the US labor market prior to 2000. Once this motor reversed, the employment rate in the US economy started to contract."
Meanwhile, debt from student loans continues to rise, plaguing graduates with consistent payments that they struggle to make with their meager hourly wages. The Pew Research Center found that in 2010, 22.4 million American households, or 19 percent, were dealing with college debt.  Higher tuition costs and rising college enrollment have increased this number by 15 percent since 2007, while the value of a degree continues to decline.
Earlier this month, the State Higher Education Executive Officers Association reported that the student debt crisis may become a dangerous 'new normal'.
"In the 'new normal,' retirement and health care costs simultaneously drive up the cost of higher education, and compete with education for limited public resources," the report states. "The 'new normal' no longer expects to see a recovery of state support for higher education such as occurred repeatedly in the last half of the 20th century. The 'new normal' expects students and their families to continue to make increasingly greater financial sacrifices in order to complete a postsecondary education. The 'new normal' expects schools and colleges to find ways of increasing productivity and absorb ever-larger budget cuts, while increasing degree production without, we hope, compromising quality."
And when the Obama administration boasts of job growth, it's usually low-wage jobs that are added to the economy: the National Employment Law Project reports that low-wage occupations accounted for about 25 percent of job losses during the recession, but made up 58 percent of jobs added since the recession came to an end. Mid-wage jobs, on the other hand, made up 60 percent of jobs lost during the recession and only 22 percent of those that have since been added.
In order to acquire jobs that pay as low as minimum wage, Americans are continuously being forced to shovel out tens of thousands – sometimes hundreds of thousands – to fund a college education, despite its shrinking value.
You can share this story on social media: