Half of recent grads can't get full-time work, study shows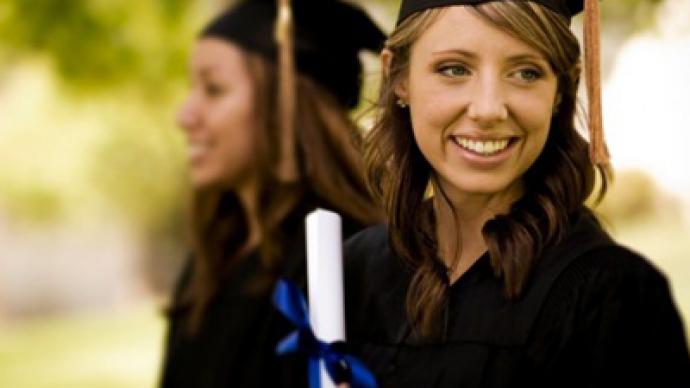 Congratulations to the graduating class of 2012. We'll be expecting you at the welfare office!
In recent months, the US Department of Labor has documented official jobless benefit claims as finally on the decline after years of figures teetering close to 10 percent. For recent college grads, however, that slump is still there and worse than you might imagine. According to recent data studied by The Associated Press, more than half of the country's recent college graduates are either without a job or grossly underemployed.The AP cites a new report out of Northeastern University that reveals 53.6 percent of Americans with a bachelor's degree under the age of 25 are either without work or desperately in need full-time employment. In all, that's around 1.5 million young Americans who either cannot find work or are left to settle with working limited hours for limited pay.Never mind that the amount owed in unpaid education loans now surpasses the total tally of credit card debt in the United States. More and more Americans are learning that a four year degree is doing less and less to advance them in the workforce. According to the AP's newly published report, a large number of recent college grads have been left to take on occupations that require only a high school education or less. "I thought that me having a biology degree was a gold ticket for me getting into places, but every other job wants you to have previous history in the field," Kelman Edwards Jr., 24, tells the AP. "Everyone is always telling you, `Go to college,'" Edwards adds. "But when you graduate, it's kind of an empty cliff."The latest figures show a huge drop in available jobs for educated young adults, with only 41 percent stuck in a similar predicament barely a decade earlier in 2000. Analysts suggest that the trend will only worsen too, with only three of the 30 occupations expected to have the most job openings in 2020 requiring a bachelor's degree. That leaves the top ten percent of projected openings to attract the likes of teachers, professors and accountants. The report also indicates that technological advances since 2000 have and will continue to eliminate mid-level jobs that can be replaced by computers. What that will leave then is a large number of openings for recent grads that will have them flipping burgers and re-stocking store aisles instead of flipping homes or working on Wall Street."Simply put, we're failing kids coming out of college," the Center for Labor Market Studies at Northeastern's Andrew Sum tells the AP. "We're going to need a lot better job growth and connections to the labor market, otherwise college debt will grow."If that is the case, any growth from here on out could be catastrophic for the credit futures of young Americans. Last month it was revealed that student loan debt from coast-to-coast had cracked the $1 trillion figure. When the Wall Street Journal broke the news, they said the actual figures were around 16 percent higher than they had expected.
You can share this story on social media: