Mass arrests at Occupy Education protest at California State Capitol
Published time: 6 Mar, 2012 16:52
Edited time: 6 Mar, 2012 22:26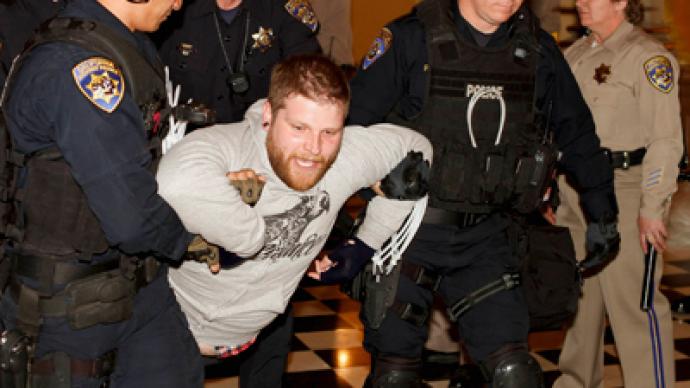 A lengthy standoff between protesters and police in and outside of the California State Capitol Building ended with nearly 70 demonstrators arrested late Monday during an Occupy rally in Sacramento.
A mass protest was waged all day Monday at the headquarters of the California State government, branded under the campaign "Occupy Education." Demonstrators aligned with the OWS movement, many in particular with the Occupy Sacramento offshoot, were meeting to protest the increasing cost of tuition at state schools.
"We want to show the state government that we care about our education, and we're not going to leave until they make it a priority," student Sam Resnick tells the Associated Press in explaining his participation.
For a student finishing the fifth year of schoolwork at a California State University, the cost of tuition today costs nearly double what it was for their first semester. Even for students enrolled in state schools, tuition at Ivy League institutes are often more affordable and classes available on the West Coast are quickly being cut. In the last decade, state tuition for California students has been raised by more than 300 percent.
Crowds of demonstrators including Resnick chanted pleas of "They say cut back, we say fight back" during the hours-long standoff.
The California Highway Patrol reports a total of 68 arrests from Monday, one of the largest tallies spawning from a single protest since winter weather and law enforcement action signaled a plateau in the movement months after demonstrations began in New York's Zuccotti Park in September 2011; since then, the OWS movement has spread internationally. Students from other California schools, including UC Berkley and Riverside, traveled upwards of hundreds of miles to Sacramento for the protest on Monday.
California Governor Jerry Brown responded to the protests with a written statement, offering sympathy for demonstrators demanding changes in the education system. "The students today are reflecting the frustrations of millions of Californians who have seen their public schools and universities eroded year after year," wrote Brown, a Democrat. "That's why it's imperative that we get more tax revenue this November."
California Highway Patrol Captain Andy Manard adds to the AP that the dozens of protesters will likely be charged with trespassing. After occupying the rotunda of the state capitol building, the police offered the demonstrators several dispersal warnings before they began to handcuff those inside. Protesters had entered the building earlier in the day, sat down and remained there in large numbers until late in the evening.

"We wanted to give them every opportunity to leave. Having that many arrests puts a stress on the jails too," says Capt. Manard. The captain's sentiment says little, however, given that the State of California prison system is budgeted more than five times what the state received in education funding.

Manard adds that around 210 cops clad in riot gear were dispersed to the campus to handle the protesters, although no reports of violence have circulated.
A California Highway Patrol officer orders Occupy the Capitol protesters to leave the state Capitol in Sacramento, California, March 5, 2012 (Reuters / Kevin Bartram)
Occupy the Capitol protesters gather inside the state Capitol in Sacramento, California, March 5, 2012 (Reuters / Kevin Bartram)
Police carry one of about 40 Occupy the Capitol protesters arrested inside the state Capitol in Sacramento, California, March 5, 2012 (Reuters / Kevin Bartram)