'It was a different time': Clinton calls to scrap his anti-gay DOMA law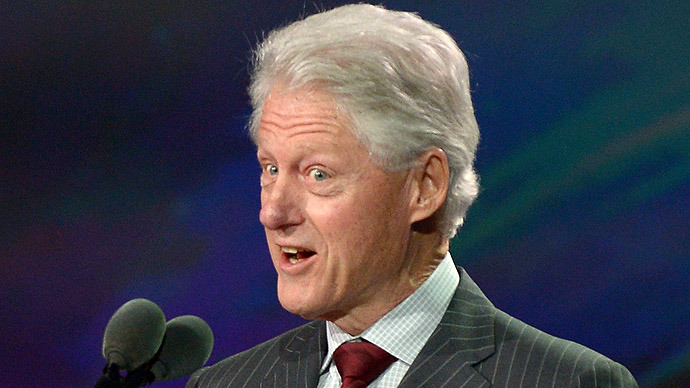 Former US President Bill Clinton has surprised many by calling on politicians to overturn the Defense of Marriage Act (DOMA), a bill widely deemed as a hindrance to gay rights, originally signed into force by Clinton in 1996.
The 42nd US president appears to have U-turned on his stance taken 17 years ago concerning the issue of gay marriage.

Clinton called the law outdated and bias towards the sexual minorities in his article, entitled 'It's time to overturn DOMA', which was published by the Washington Post newspaper on Thursday.

"I know now that, even worse than providing an excuse for discrimination, the law is itself discriminatory. It should be overturned," he wrote.

Clinton's excuse for signing the bill, which he now refers to as "unconstitutional", is that "it was a very different time", with same same-sex marriages not recognized in any of the US states.

The 66-year-old explained that it never crossed his mind that DOMA may be used to discriminate sexual minorities, noting that he's not the only one to blame, with just 81 of the 535 members of Congress being opposed the bill.  

Clinton argues he was acting out of the best purposes as he saw DOMA as the best possible way to "defuse a movement to enact a constitutional amendment banning gay marriage, which would have ended the debate for a generation or more."

Section 3 of the DOMA act defines marriage as "being between a man and a woman", which puts American homosexual couples at a disadvantage.

Despite paying taxes and contributing to their communities in other ways, they are denied the benefits of the federal statutes and programs available to more traditional families.

A lot however, has changed since 1996 as gay couples are now allowed to tie the knot in nine states (Iowa, Connecticut, Massachusetts, New Hampshire, New York, Vermont, Maine, Maryland, and Washington) and the District of Columbia.

Section 3 of DOMA has been found unconstitutional in eight American federal courts, including the First and Second Circuit Court of Appeals, on issues including bankruptcy, public employee benefits, estate taxes and immigration.

And now the Supreme Court is going to hear an appeal in one of those cases – United States v. Windsor – and decide on whether the legislation stays or goes.

In 2009, Edith Windsor took legal action after she had to pay federal estate taxes because DOMA prevents the Internal Revenue Service from recognizing her as a surviving spouse of late Thea Spyer.

The lesbian couple from New York were together for 42 years before marrying in Canada 2007 where same-sex alliances were legalized eight years ago.   

The Supreme Court will look into the case on March 27, with the judges decision expected in June.

"I join with the Obama administration, the petitioner Edith Windsor, and the many other dedicated men and women who have engaged in this struggle for decades in urging the Supreme Court to overturn the Defense of Marriage Act," Clinton concluded in his entry.

You can share this story on social media: