Massive pro-gay rally takes to Paris streets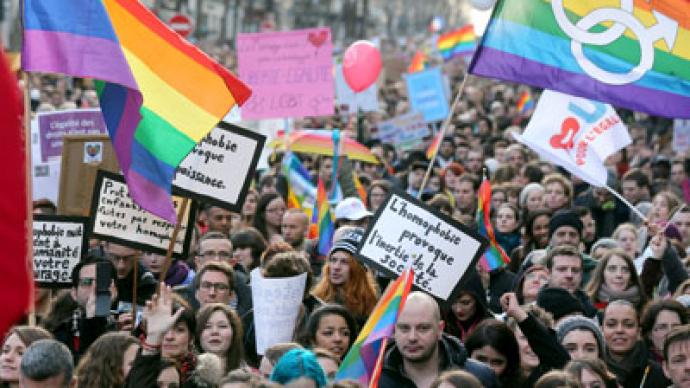 Tens of thousands of people took to the streets of the French capital on Sunday, to rally in support of a government-proposed bill that would legalize same-sex marriage and adoption.
The demonstrators marched from Denfert-Rochereau Square in the southern part of Paris, waving flags and carrying banners reading phrases such as "Equality of rights is not a menace."Some 125,000 people attended the event, according to police estimates. However the Sunday rally did not surpass the march against the cause that took place in the city back in December and saw a turnout of some 340,000.As civil unions have been available for gay couples since 1999, the provision that allows adoption is now at the heart of the debate. Opponents of gay marriage and adoption, including most faith leaders in France, argue that the proposed reform would create psychological and social problems for children.
However, despite strong opposition to the proposed bill, a recent survey showed that about 63 per cent of French citizens supported legalizing gay marriage. "There is a big difference between today's march and the one two weeks ago, which is that this demonstration is one of brotherhood, not of hatred," Paris mayor Bertrand Delanoe, who is openly gay, said on French television. "The majority of French people want all couples to have equality in love and parenthood."The French government will start debating the bill on Tuesday and it is predicted to easily pass the Socialist-dominated parliament.Should it be passed, France would become the 12th country in the world to legalize same-sex marriage after such nations as Belgium, Portugal, the Netherlands, Spain, Sweden, Norway and South Africa, as well as nine US states and Washington, DC.
You can share this story on social media: