UK churches to hold same sex marriages?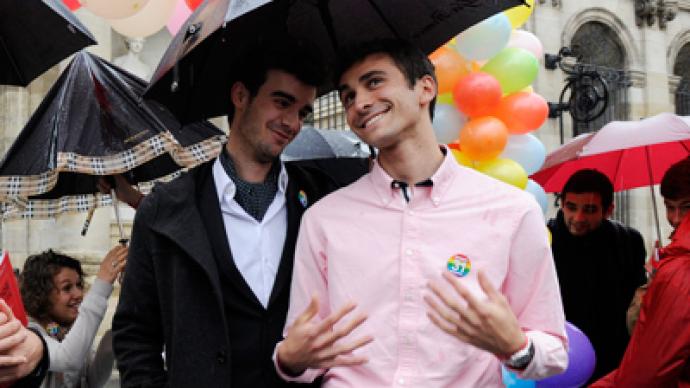 The British prime minister argues that gay couples should have equal rights despite opposition from Tory MP's, suggesting that religious groups decide for themselves whether or not to marry same-sex couples.
Same-sex weddings are to be held in British churches under new plans revealed by Prime Minister David Cameron, to be voted on in parliament next week. Cameron will stop short of forcing religious groups such as the Church of England and the Roman Catholic Church, who are against the idea, from honoring marriage equality. Government sources said a series of legal "locks" would "protect" those groups, while allowing those in favor to "opt-in." The Quakers, Jewish Liberals and the Unitarians have voiced vocal support for the proposal."I'm a massive supporter of marriage, and I don't want gay people to be excluded from a great institution. But let me be absolutely 100% clear: if there is any church or any synagogue or any mosque that doesn't want to have a gay marriage it will not, absolutely must not, be forced to hold it. That is absolutely clear in the legislation." Cameron told reporters. Culture Secretary Maria Miller reiterated last month that the new law will allow those religious groups backing marriage equality to help same-sex couples to tie the knot. "Marriage is all about creating some stability in society. It is all about helping people have long-term relationships together. I think more people should be married, and I don't think the state should stand in the way of people getting married unless there is a really good reason – and being gay isn't one of them," Miller said. In order to get the law through Parliament, the government will have a free vote on the bill next week. The PM can rely on support from Labour leader Ed Milliband and deputy Prime Minster Nick Clegg, who was the first heavyweight politician publicly to back the idea in an interview with the London Evening Standard last June. But at least 100 Tory backbenchers are expected to vote against it, with some conservative MP's saying Cameron risks alienating many in the party. "Despite the PM's assurance, the redefinition of marriage – because of the European Convention on Human Rights – will force churches to marry same sex couples. This will outrage millions of people and hugely damage the government in electoral terms," said Tory MP Peter Bone, seemingly erroneously, as quoted by the Evening Standard. Bone believes conservatives are split 50-50 on the issue and even some government ministers may vote against it. But even if this were true, with Labour and Liberal Democrat support, the bill would sail through the house anyway. Bob Blackman, Conservative MP for Harrow East, was equally firm in his criticism of the proposal, warning that there was no chance of the Lords getting behind it. In British politics, new laws must be passed by the more conservative House of Lords, which is likely if not to reject the bill then at least hold it up. But in any case, Cameron does not seem put out by the risks of supporting marriage equality in church, and is prepared for a row with his MP's because he believes the public is open to the idea and firmly behind him on the issue. Marriage equality pressure group Out4Marriage said it was "delighted" with the prime minister's stand. "We are glad that they appear like us to believe in religious freedom, that churches must have the freedom to decide themselves whether to allow gay couples to marry. We eagerly await the full details of this historic change in the law next week."  While Peter Tatchell, a veteran gay rights protester, said he was worried that under the proposed law heterosexual couples will have less rights than gay ones. "There will be two forms of official state recognition for lesbian and gay couples: the present system of civil partnerships and the new system of civil marriages. Heterosexual couples will have only one option: marriage. They will be subjected to legal inequality and discrimination. This is very wrong. I support straight equality." Tatchell told The Guardian.
You can share this story on social media: