Edinburgh adoption case: gay couple preferred over grandparents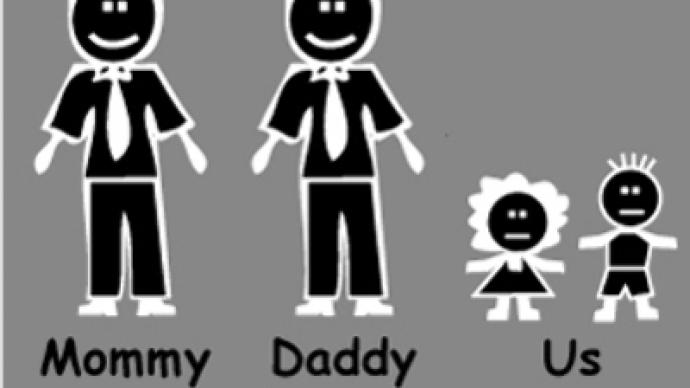 After a two-year-long battle in an Edinburgh court, it has been ruled that two kids aged five and four are to be adopted by a gay couple – rather than their own grandparents, who are distraught by the court decision.
Being 'financially crippled by legal bills' after the court fight, the grandparents were denied an opportunity to care for the children of their 26-year-old daughter, who is said to be a recovering drug addict. The only reason named was worries about their age and health, the Daily Mail newspaper says.
The 59-year-old grandfather has angina, while his wife, aged 46, is being treated for diabetes. Devastated, they agreed that their grandkids be adopted by a loving family, they said. They were chilled to find out that two gay men were chosen among several other candidate heterosexual couples approved as adoptive families.
Social services insisted that the decision was made 'in accordance with whom can best meet the children's needs.'
When the grandparents started protesting, social workers told them: "You can either accept it, and there's a chance you'll see the children twice a year, or you can take that stance and never see them again."
Meanwhile a social worker report says that the younger child, a little girl, 'has tended to be more wary of males in general.' The reasoning behind the decision is not particularly clear, moreover taking into consideration that it was taken behind closed doors.
A spokesperson for the Roman Catholic Church, Peter Kearney, commented on the issue saying:
"This is a devastating decision which will have a serious impact on the welfare of the children involved. There is an overwhelming body of evidence showing that same-sex relationships are inherently unstable and reduce the life expectancy of those involved. With this in mind, the social work department has deliberately ignored evidence which undermines their decision and opted for politically correct posturing rather than providing stability and protection."
The kids' grandparents insist they are not homophobic, but "in our society the mother is generally the cornerstone of the family and the most important person for a young child," said the grandfather.
Adoption by gay couples in Scotland was approved in 2006. It was estimated that nearly 90 percent of people in the country opposed it.
You can share this story on social media: