California court halts ban on anti-gay 'conversion treatment' for review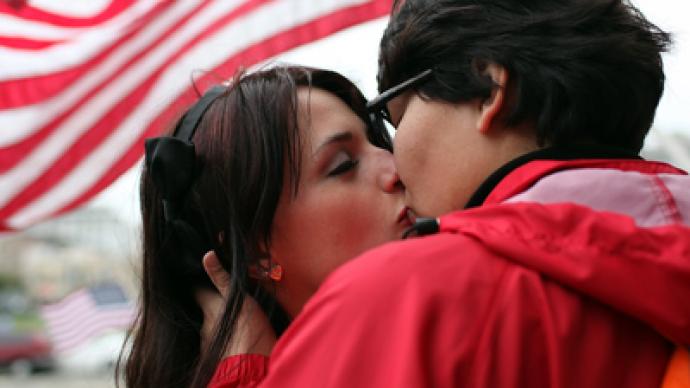 California's first-of-its-kind ban on a controversial 'conversion treatment' for underage gays and lesbians has been put on hold until its constitutionality has been challenged in court. The therapy has been being hotly debated across the country.
The US Court of Appeals in San Francisco has satisfied a request made by therapist David Pickup and other supporters of the so-called 'reparative therapy' who are seeking to overturn the ban, calling the restriction "politically motivated".California Governor Jerry Brown signed the law this past September, making the state the first in the US to ban the therapy. The controversial treatment supposedly aims to help homosexuals become heterosexual.The appeals court's order prevents the state from enforcing the ban on January 1, after which a separate three-judge panel will deliberate whether the measure violates the First Amendment rights of therapists and parents."This law is politically motivated to interfere with counselors and clients," said Matthew Staver, a lawyer with the Liberty Counsel, the nonprofit legal group representing Pickup. "This law is an astounding overreach by the government into the realm of counseling and would have caused irreparable harm."Gay rights activists argue that "no licensed therapist should be permitted to engage in practices that cause such serious harm." "Every leading medical and mental health organization has warned therapists and parents that these practices do not work and put young people at risk of serious harm, including depression and suicide," the LA Times quoted Shannon Minter, legal director of the National Center for Lesbian Rights as saying.The California ban on conversion therapies has sparked heated statewide debate. Supporters of the ban, including gay-rights advocates and statewide associations of psychologists and family therapists, claim that reparative therapy is ineffective and dangerous, and can even lead to patient and self-destructive behavior. Controversial aspects of the treatment include include hormone injections and nude group therapy sessions.Supporters of conversion therapy insist that Governor Brown's ban violates the free-speech rights of therapists and patients, and claim that the treatment has been effective in some cases.Earlier this month, two federal trial judges in California arrived at opposite conclusions on whether the law violates the Constitution.On December 4, US District Judge Kimberly Mueller upheld the ban, ruling it did not violate the First Amendment. Muller argued that Californians do not have the right to choose mental health treatments that the state considers harmful to minors. Those who are seeking such treatment, the judge said, still have access to it through churches or unlicensed providers. Muller concluded that the plaintiffs were unlikely to prove that the ban on conversion therapy violates their civil rights and should therefore be overturned.Muller's decision came a half-day after US District Judge William Shubb, ruling in a separate case, ruled that the ban may offend the First Amendment rights of therapists to express their opinions about homosexuality. Three plaintiffs filed the suit, arguing that the ban was unconstitutional. The judge's order barred the state from enforcing the measure against the three plaintiffs – two licensed therapists and one therapy student – until their lawsuit was resolved. The state has not appealed that ruling.
Reparative therapy techniques
'Reparative therapy,' which claims to help gay men become heterosexual, faced a courtroom test in November when four men from New Jersey filed a civil suit against Jews Offering New Alternatives for Healing (JONAH), and the allegedly humiliating methods used in the treatment.The former clients claimed they were emotionally harmed by the therapy's techniques, which included stripping naked in front of a counselor and beating effigies of their mothers, intimate embraces with other men, visiting bath houses in order to be nude around 'father figures,' and being ridiculed as 'faggots' and 'homos' in mock locker room scenarios.The four said they paid thousands of dollars for the treatment, yet were held at fault when the therapy failed to convert them into heterosexuals.Though mental health associations stopped labeling homosexuality as a psychological disorder in the 1970s, some renegade therapists, conservative religious leaders and self-identified 'life coaches' argue that same-sex attraction is not determined by genetics.They created a field of 'sexual orientation change efforts,' which may include psychoanalysis, behavioral therapy and religious and spiritual counseling. In the past, some licensed therapists also used nausea-inducing drugs and hormone treatments to deter homosexuality.Therapists seeking to change a patient's sexual orientation also made men spend more time with heterosexuals – participating in sports and avoiding members of the opposite sex, except for romantic contact.