Gay Marine proposes in the White House
Published time: 18 Dec, 2012 18:46
Edited time: 18 Dec, 2012 22:46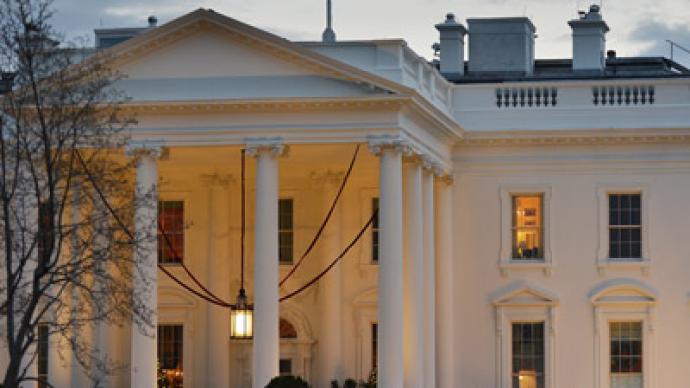 An active duty US Marine Corps captain proposed to his partner in the White House this past weekend, dropping to his knees in front of a number of tourists who snapped pictures of the newly engaged couple.
­Positioned in front of a Christmas tree in the Grand Foyer of the White House, 35-year-old Matthew Phelps asked his 26-year-old boyfriend, Ben Schock, to marry him on Dec. 15.  The proposal marks the first time two gay men have gotten engaged inside the White House, as well as the first time for an active-duty member of the US military.
"Last night I proposed to @b_schock at the White House!! I could not be more fortunate, more happy, or more in love," Phelps tweeted from his account @m_matthew on Dec. 16.
"Such a special night surrounded by wonderful people in an amazing place, and the best is still yet to come with Ben Schock," he wrote on his Facebook.
White House visitors taking a tour of the presidential residence snapped photos of the couple, some of which went 'viral' on the Internet shortly after the proposal. The White House has so far made no comment on the engagement and declined to comment to reporters from ABC News.
But the newly engaged couple has received congratulations from Americans across the nation. The young couple was "blown away by the amazing love and support we have received", Phelps told Huffington Post Gay Voices in an e-mail. And they never expected this much attention. 
"I wanted to propose to Ben at the White House because that's where we went for our first date, to the LGBT Pride Month Reception in June," Phelps said. "Although we had met a couple years prior at the 2012 Servicemembers Legal Defense Network annual dinner, we didn't actually start dating until we both made it back to Washington D.C. two years later."

He explained that his invitation from the Military Partners and Families Coalition to attend the White House holiday tour on Dec. 15 coincided with the couple's six-month anniversary of their first date, which Phelps said "was too big not to capitalize on".
Phelps told ABC News that the repeal of "Don't Ask, Don't Tell" made his public engagement possible, but that there are still obstacles he and his partner will face, since gay marriage is not federally recognized.
"The one thing that is overshadowing things," he said, "is the fact that the Defense of Marriage Act is still in effect and the DOD [Defense Department] isn't going to recognize our marriage.
"I'm expecting to get orders to Japan next summer, but as of right now, because they're not going to recognize Ben as my spouse, they're not going to pay for him to accompany me; he's not going to have any health care coverage; and, he's not going to have access to the base while I'm gone," he said.
"I'd have to get permission to live out in town as a 'single officer,' so we'll have to figure that out," he said.
For now, the newly engaged couple is just happy to be getting married and pleased with the positive messages they are receiving on the Internet.
In June, a transgender man proposed to his fiancé at the White House, who said yes after the man expressed his love for her in the middle of Cross Hall, the main hallway on the first floor of the White House.
But this past Saturday's proposal marks the first time a same-sex couple became engaged in the president's residence – an action that might instill courage in other gay couples across the nation.