46 shot, 7 dead over the weekend in Chicago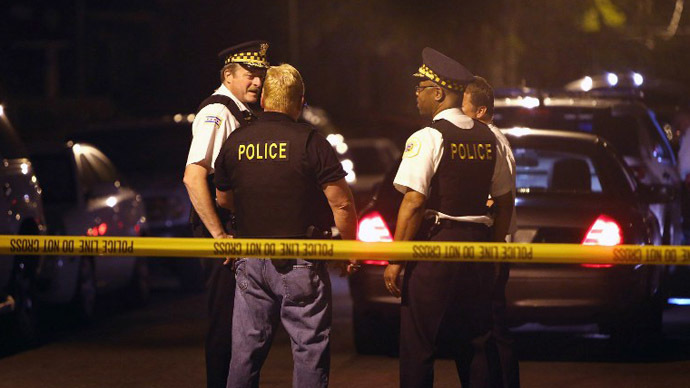 At least 46 people were shot in Chicago, Illinois over the weekend in what is one of the bloodiest series of days yet this year in the Windy City.
By Monday morning, local news outlets reported that seven people died over the weekend from a number of incidents across the city. Six of the shooting deaths occurred at different locations, and a 16-year-old boy became the youngest victim fatally wounded after a passerby opened fired while riding a bicycle in the Little Village neighborhood in the city's South Side, the Chicago Tribune reported.
The paper acknowledged that 13 people were shot from Friday afternoon into Saturday, and another 33 people were hit from Saturday afternoon through Father's Day evening on Sunday.
Chicago police spokesman Adam Collins told the Tribune that, so far, 2013 is on path to posting the lowest homicide totals in years. With the bloodshed brought out of this weekend's tragedies, however, that trend could change.
"There's going to be good days, and there's going to be bad days, which is why we've been calling this progress, not victory," said Collins.
In an email to WBBM-TV, Collins wrote Monday morning that there is indeed room for improvement as the city tries to shed its reputation as being a violent, modern-day Wild West.
"While we've had fewer murders to date this year than any year since the mid-1960s, there's more work to be done and we won't rest until everyone in Chicago enjoys the same sense of safety," Collins said.
In 2012, the homicide count in the Windy City surpassed 500 for the first time since 2008. A study published last summer equated living in Chicago with being more dangerous than residing in Afghanistan, where the number of US serviceman killed overseas last year paled in comparison to figures in Chi Town.
According to WGN-TV, one of the nearly four-dozen fatalities this weekend resulted from a bullet fired by a Chicago Police Department officer. Anton Johnson, 24, was apparently shot and killed by police Sunday morning after he fled a car brandishing what appeared to be a gun.
"He fell. [Officers] could see as he was running that he had a gun in his belt in his back," Fraternal Order of Police spokesperson Pat Camden told WGN. "As he fell to the ground, he was crawling and reaching for the gun at the same time. At that point the officers opened fire."
Johnson's mother, Stacy Liberty, disputed the department's account.
"They didn't even give him time to stop," Liberty told WGN. "No call or anything. They just shot my son in the back."
The Tribune added that in one instance this weekend, a 40-year-old man died after gunfire erupted inside of a nightclub in the Grand Crossing neighborhood where three others were wounded. In another Little Village shooting, a 21-year-old man was the sole causality of a shootout that left at least five others wounded.
You can share this story on social media: