White House to finally answer: When is killing Americans okay?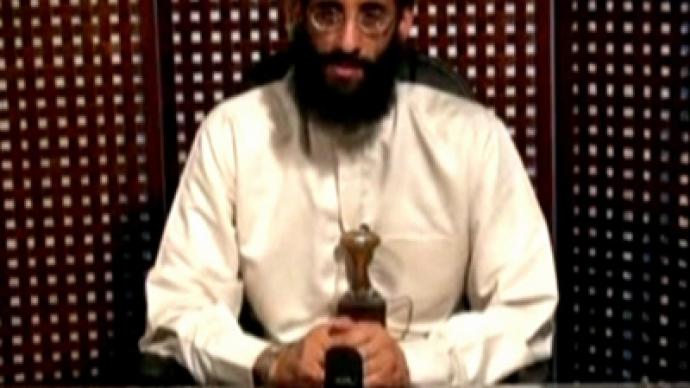 How exactly can the Obama administration get away with killing American citizens? The answer to that question and many more may be revealed Monday afternoon by United States Attorney General Eric Holder.
Attorney General Holder is expected to deliver a speech at Northwestern University School of Law in Chicago, Illinois on Monday, and an official close to the Obama-appointee say that the legal justification for the targeted killings of twp Americans will finally be addressed, months after the US assassinated two of its own overseas.Two US-born citizens with alleged terrorist ties were executed in a "targeted kill" carried out by the CIA last year in Yemen. Despite never formally filing charges or bringing the men to court, Anwar al-Awlaki and Samir Khan were struck dead by a planned drone strike in September. Since then, the White House has defended the assassinations but has done little to formally address how, when or why the federal government is given the power to single out and kill its own citizens. Holder is expected to finally footnote those killings with an explanation Monday afternoon.A source close to Mr. Holder tells the media that the top-secret "targeted kill" program will be a matter of discussion at Monday's address in Chicago, although only offered that confirmation on condition of anonymity because the contents of the speech have not officially been publicized ahead of time.The source adds that Holder will say the extrajudicial killings are allowed under the Authorization for Use of Military Force, a joint congressional resolution that was drafted only a week after the September 11 terrorist attacks in 2001. The same legislation has received added notoriety in recent months, as it is cited by Congress on the pages of the controversial National Defense Authorization Act for Fiscal Year 2012. In a provision approved within the pages of the NDAA, the Authorization for Use of Military Force is used as reasoning to justify the indefinite detention of Americans believed to be aligned with hostile forces. Holder is expected to say that the same post-9/11 legislation allows for the killing of those alleged enemies, such al al-Awlaki, as well. President Obama signed the NDAA into law on December 31, 2011, granting himself the power to indefinitely detain Americans without charge.Last month, Defense Department lawyer Jeh Johnson told an audience at Yale Law School that that Authorization for Use of Military Force does indeed allow for the killing of Americans, but tried to downplay that nasty "a-word" in his reasoning."Under well-settled legal principles, lethal force against a valid military objective, in an armed conflict, is consistent with the law of war and does not, by definition, constitute an 'assassination,'" said Johnson. Attorney General Holder is expected to extrapolate on that from the Windy City.If the killings of al-Awlaki and Khan are not constituted as a by-the-books definition of "assassination," it opens up an unusual question: What exactly did the US do to the two alleged al-Qaeda members if it wasn't an assassination? President Barack Obama approved for al-Awlaki to be added to a "kill or capture" list maintained by the CIA in April 2010, and the agency carried out the execution a little over a year later. Critics have since become concerned over not necessarily why such a list exists, but what legal justification the US has for adding the name of any American to it. Following the September killing, then-presidential candidate Gary Johnson offered a statement asking Americans to concern the consequences of the assassination. "[O]ur government targeted a US citizen for death, and carried out that sentence on foreign soil. To my knowledge, that is a first, and a precedent that raises serious questions," said Johnson, who formerly served as Governor of New Mexico — al-Awlaki's home state.Currently Republican Party contender, Congressman Ron Paul, was similarly suspicious of Obama adding al-Awlaki to a list that would eventually lead to a plotted execution. "Nobody knows if he ever killed anybody," Paul responded at the time. "If the American people accept this blindly and casually…I think that's sad."Congressman Paul has repeatedly reintroduced what he says is a dangerous reality established under the kill-order during televised GOP debates. United States Defense Secretary Leon Panetta has remained mostly mum on the manner, but told CBS' 60 Minutes program last year that "the President of the United States has to sign off, and he should," for the killings of Americans. At least three lawsuits have been lobbed at the Obama White House since the targeted killings in hopes of seeing the internal memos that discuss the details. The justification for the executions is believed to be contained in a secret Justice Department memo, reports the Associated Press, but despite repeated requests filed under the Freedom of Information Act, the Obama administration has not released the Justice Department Office of Legal Counsel memorandum that allegedly explains the legal grounds on which the al-Awlaki assassination was allowed. Last month the American Civil Liberties Union added itself to the list of critics that was taking Obama to court over the matter. In a post on their site published early February, the ACLU wrote that "the Obama administration has released very little information about the practice — its official position is that the targeted killing program is a state secret — and some of the information it has released has been misleading." "The government's self-serving attitude toward transparency and disclosure is unacceptable," the ACLU added. "Officials cannot be allowed to release bits of information about the targeted killing program when they think it will bolster their position, but refuse even to confirm [its] existence" when asked for information "in the service of real transparency and accountability.""It has not explained whether Samir Khan and Abdulrahman al-Awlaki were killed 'collaterally' or were targeted themselves. It has not said what measures, if any, it took to minimize the possibility that individuals not targeted would be killed incidentally," the group wrote in their complaint.Federal investigators have linked al-Awlaki to US Maj. Nidal Malik Hasan, the serviceman who opened fire at Fort Hood in 2009, as well as at least two other planned terrorist attacks on American soil. Samir Khan, a Pakistani born in North Carolina, was also suspected of links to al-Qaeda. He started an online magazine connected to the group and wrote in the first issue that he had relocated to Yemen to "wage jihad for the rest of our lives."
You can share this story on social media: