Dozens injured in Chicago metro train crash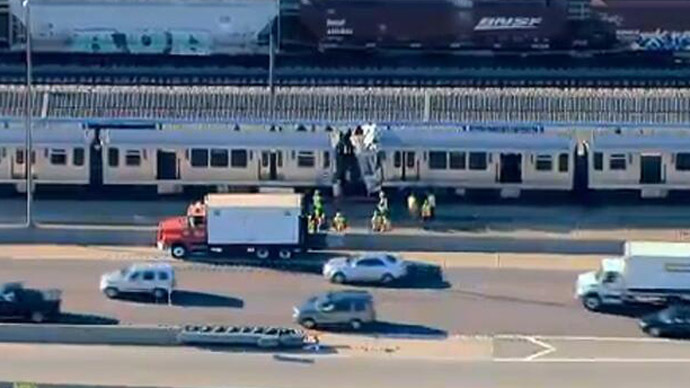 A collision on the tracks of Chicago's CTA metro line Monday morning sent over 30 people to the hospital. Police are now investigating the incident as the result of a possible hijacking.
As of 10am local time, 33 people were brought to nine area hospitals following a collision hours earlier that occurred when an outbound train stopped at the Forest Park station was struck by an out-of-service train heading in the opposite direction, Chicago Transit Authority spokeswoman Lambrini Ludkidis told the Tribune.

CTA trains crash: Chicago Tribune photo by Chuck Berman. pic.twitter.com/jngus1Iua4

— Scott Kleinberg (@scottkleinberg) September 30, 2013
CBS News is reporting that police were investigating the possibility that the collision resulted because someone hijacked the out-of-service train, though indications largely pointed to a mechanical failure, albeit an unusual one. The network also puts the number of those injured at 48.
"I was waiting for my train. Time to go to school. I heard screaming, 'Stop the train, stop the train, slow down.' It seemed like the train going toward Forest Park bumped back a little bit," witness Taylor Pettigrew told local station WTVD-TV.

The CTA told CBS that the train was on the wrong tracks when it rammed the on-duty car. Anthony Calderone, the mayor of Chicago suburb Forest Park , says that nobody was at the controls when the train crashed. 
"To the best of our knowledge, from what we know right now, there was no driver, there was no human being on that eastbound train," Calderone said as quoted by the WLS radio website. "Forest Park police are treating this as a crime scene."

Police sources told the ABC the train was possibly "deliberately set in motion."
Blue Line trains not stopping at Harlem (Forest Park br.) due to an incident involving a train. Again, service has resumed to Forest Park.

— cta (@cta) September 30, 2013
Official say there are no serious injuries being reported as of yet. One of those requesting medical attention was a train operator.

Service on the line was shut down for a couple of hours and the station where the collision occurred remained closed after service was restored, the CTA said.

33 hurt in Chicago train collision. via @chicagotribunehttp://t.co/MVODvsBM15pic.twitter.com/3srAzUVt4n

— Jim Roberts (@nycjim) September 30, 2013

@sondrasolarte@FoxNews@fox32news Blue Line trains collide. pic.twitter.com/aAqgM7kQD2

— stvcksondeck$$gvng (@pulchritudino_) September 30, 2013
You can share this story on social media: