Moscow commuter train rams car as traffic lights fail (VIDEO)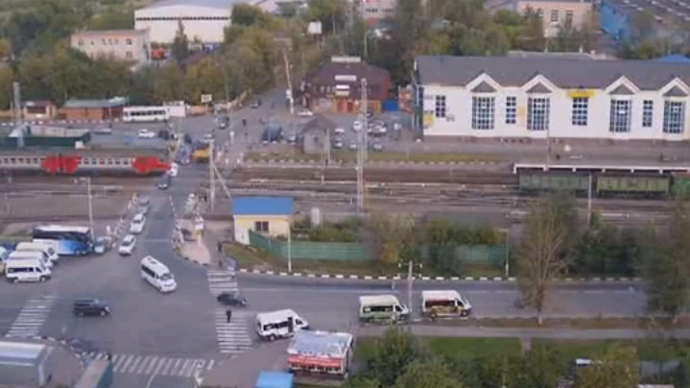 Shocking video footage captured a commuter train ramming into a car at a regulated railway crossing in Moscow's suburbs leaving the driver of the vehicle in a coma. Russian authorities initially blamed the driver for ignoring the broken traffic light.
The moment of the crash caught on CCTV in Scherbinka, the Russian capital's suburbs, appeared on YouTube on Tuesday.
The footage shows a Chevrolet sedan driving onto the tracks and being broadsided by a commuter train rushing at full speed. The vehicle was passing in a dense flow of traffic, moving both directions, at a railroad crossing regulated by crossing barriers and lights.
The traffic was not stopped by the barrier, when the commuter was passing by.

Russian Railways blamed the driver of the vehicle for the accident which took place on Monday, saying in a statement published on their website that "the driver of the automobile roughly violated road traffic regulations by passing red light crossing signals working properly in front of the speeding commuter."
However, later on Monday the original message was replaced by an 'explanation' for the media, which did not mention any violations by the driver and the status of the traffic light.
The video sent social networks' users into frenzy with many blaming the authorities for the tragic crash. Twitter user @asevost7 writes that he lives in Scherbinka and "there are accidents at that crossing every day, the authorities stay ignorant." YouTube user Georgy Sobokin writes that "the Russian Railways service is not to blame", as the red light signals the train's approach and the gate closes afterwards.
The commuter started to brake immediately after the collision. None of the passengers on the train were injured. Following the accident the rail traffic travelling towards Kursk was temporarily suspended, leading to congestion in the train stations.
You can share this story on social media: