Hundreds reported sick amid indefinite water ban after W. Virginia chemical spill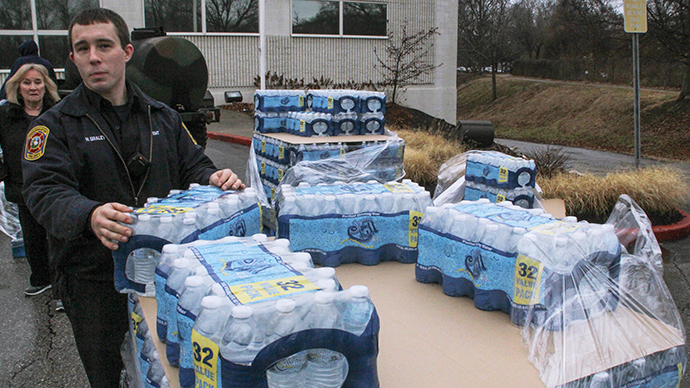 Hundreds have reported sickness, businesses have closed and bottled-water supply is low after a chemical spill into the Elk River in West Virginia that has affected 300,000 people in nine counties. The White House declared the incident a federal disaster.
Residents of the nine affected counties have been told to avoid using tap water for drinking, cooking, washing or bathing. Health officials recommend it to be used only for flushing toilets and fighting fires. Currently it is unclear when the ban will be lifted.
Nearly 700 people have reported falling ill, exhibiting symptoms such as nausea and vomiting, though less than 10 people have been hospitalized, according to NBC News.
US President Barack Obama "ordered federal aid to supplement state and local response efforts," said a US administration statement on Friday morning.
Federal authorities opened an investigation into what caused the leak that poisoned the river and shut down much of the West Virginia's capital, Charleston and surrounding counties. US Attorney Booth Goodwin said authorities will take whatever action is appropriate based on the evidence found, reports the Associated Press.
In response to the crisis, the West Virginia Department of Environmental Protection's Division of Water and Waste Management ordered Freedom Industries to cease operations Friday afternoon. State environmental officials also ordered the company late Friday to remove chemicals from the 14 above-ground storage tanks where the leak contaminated the area's water supply within 24 hours, the AP reported. The chemicals are to be stored in a place with a working containment system, authorities said. The company is also required to offer a plan on how to clean up contaminated soil and groundwater.
The Division of Air Quality launched an investigation Thursday morning to address residents' complaints, and found that MCHM was discharging into the air. Crews also noticed that an MCHM spill had pooled in containment ditches in the plant, which is also located near a river.
Late on Thursday, West Virginia's Governor Earl Ray Tomblin issued a state of emergency for Boone, Cabell, Clay, Jackson, Kanawha, Lincoln, Logan, Putnam, and Roane counties.
As of early Friday evening, the West Virginia Poison Center had received 670 calls since the tap-water ban was instituted, said Dr. Elizabeth Scharman, the center's director, according to NBC News.
Many described symptoms including nausea, vomiting, diarrhea, headaches, skin irritation or rashes.
"It's varying degrees of severity," she said.
Water distribution centers began to open in affected areas early on Friday, according to The Charleston Gazette.
"You must bring your own containers to receive water and some locations have limited hours and a limit on gallons available," the paper said.
Local media published photos of locals lining up in shops to buy bottled water and empty shelves.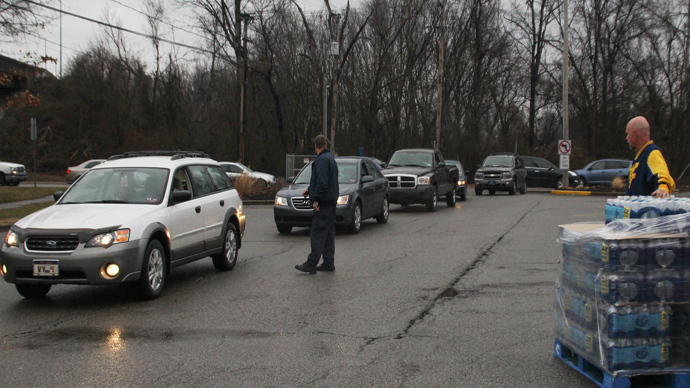 The spill of chemical used in the coal industry occurred Thursday on the Elk River in the state's capital Charleston, upriver from West Virginia's largest water treatment plant. The foaming agent, 4-Methylcyclohexane Methanol, leaked from a tank at Freedom Industries and overran a containment area.
Freedom - a company that produces chemicals for the mining, steel, and cement industries – made its first comment on the situation only more than a day after the incident.
"Since the discovery of the leak, safety for residents in Kanawha and surrounding counties has been Freedom Industries' first priority. We have been working with local and federal regulatory, safety and environmental entities… and are following all necessary steps to fix the issue," Gary Southern, the President of the company said in a statement released early Friday afternoon.
"Our team has been working around the clock since the discovery to contain the leak to prevent further contamination. At this point, Freedom Industries is still working to determine the amount of 4-methylcyclohexanemethanol, or Crude MCHM… that has been released, as the first priority was safety, containment and cleanup," the text reads as cited by WSAZ.
The Sheriff's Department sent deputies to Freedom Industries' office Friday because residents were calling in death threats and a number of people had threatened to bomb the building.
The company is going to set up an incident command center on site.
According to Tom Aluise, a state Department of Environmental Protection spokesman, the tank that leaked holds at least 40,000 gallons.
"We're confident that no more than 5,000 gallons escaped," he said earlier, as quoted by AP. "A certain amount of that got into the river. Some of that was contained."
West Virginia American Water President Jeff McIntyre said he did not "know if the water is not safe" and added that the chemical was not lethal in its strongest form.
"Until we get out and flush the actual system and do more testing, we can't say how long this (advisory) will last at this time."
On the water company's Facebook page, some residents complained that they had not been immediately informed about the water contamination.
"What about those who have already used the water for all of the above? What do they need to do? And are you guys going to pay for the extra expense of people having to buy bottled water or reimburse them for the punitive damages?" one user wrote.
"My mother has drunk and used the water all day long! Water was also put out for my animals so they better not get sick and die from ingesting the contaminated water that was put out for them!" another person commented.
"Yeah, so I'm 6 months pregnant and drank tap water at a restaurant about an hour before the notice was sent out," one woman said.
McIntyre told a media conference Friday that the water company knows of no treatment to remove the chemical agent from water supplies, and that crews would have to flush out many miles of service lines, reports the Charleston Gazette.He said he did not know how long that might take; adding that even after the level of pollution is determined "water can take hours to days" to flush through the system.
You can share this story on social media: