Massive explosion follows North Dakota train derailment, collision (PHOTOS, VIDEO)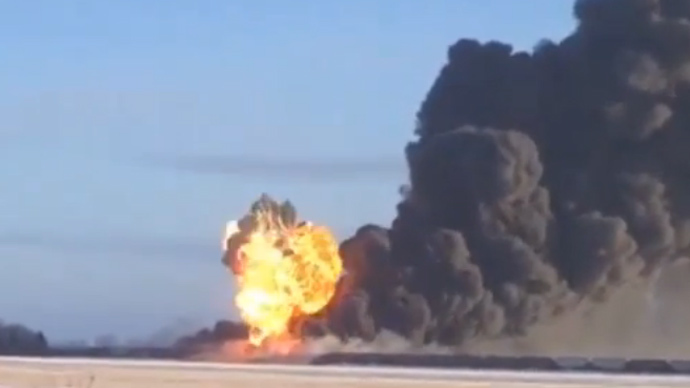 A large freight train transporting oil derailed near a small town in eastern North Dakota on Monday, causing an explosion that sent flames as high as 100 feet in the air, according to local media reports.
The accident happened just after 2:00 p.m. local time. An unknown number of cars derailed, though Cecily Fong – public information officer with the North Dakota Department of Emergency Services – estimated the number at seven or eight out of at least 100.
Train derailment near Casselton, ND. Casselton residents are being asked to stay indoors. Stay tuned to KFGO. pic.twitter.com/Zm9ZCHCs0B

— KFGO (@790KFGO) December 30, 2013
Fong would not speculate on the cargo on board, but a local firefighter told NewsDakota.com that the train belongs to the Burlington Northern Santa Fe Corp. (BNSF) and was indeed carrying oil.
Authorities said the train went off the track less than a mile outside Casselton, North Dakota (2010 population: 2,329) and was then struck by a second train. The town's mayor told reporters that there were no casualties in the accident, though multiple blasts could be seen from miles away.
City officials said the series of explosions shook the windows at the city auditor's office, with blasts reverberating the area for more than an hour after the crash.
"Approximately 10 cars are fully engulfed resulting in heavy smoke in the area," said the Cass County Sheriff two hours after the collision.
Crazy image from the train accident in Casselton, North Dakota a little earlier. (Pic via @AP) pic.twitter.com/UmTi6oawpe

— Dave Humphreys (@LordHumphreys) December 31, 2013
Emergency officials have issued a 'code red' alert and asked residents to remain indoors, warning that hazardous material could be in the air. The Fire Department said it will likely let the cars burn out by themselves, as the risk of approaching is too great.
UPDATE 9:02 EST: The Sheriff's office ordered an immediate evacuation of the city of Casselton and the area stretching five miles to the south and east of the city because of high pressure weather that was expected to push the black smoke plume into the city.
Train oil tanker explosion in North Dakota 20 miles west of Fargo .. pic.twitter.com/rO2y0uonUS

— Ed Schultz (@WeGotEd) December 30, 2013
You can share this story on social media: