Former German chancellor surprised that NSA continued to spy on Merkel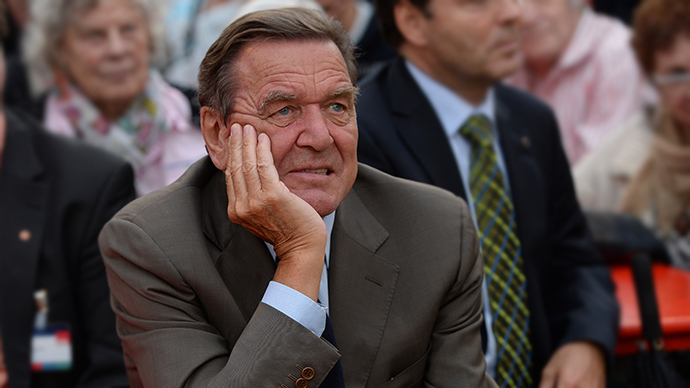 The former chancellor of Germany now says he was surprised to hear that the United States National Security Agency, or NSA, spied on his country's current head of government after he left office almost a decade ago.
Earlier this month, NSA documents showed that the spy agency conducted surveillance operations starting in 2002 that targeted Gerhard Schröder during his term as chancellor.
Schröder told reporters at the time that he wasn't surprised about the operation, which was made public due to documents disclosed by former NSA contractor Edward Snowden.
During an event in Berlin on Thursday this week, however, the former chancellor said he didn't expect the NSA to continue monitoring his office after he ended his tenure in 2005.
"I knew, of course, that there were always spying activities going on but essentially, no spying activities among friends, but rather under enemies, let's say. In this sense it was surprising for me to find out to what extent this kind of spying took place," Schröder said Thursday during a book launch even for his most recent work, "Klare Worte" (Clear Words) at the Deutsche Bank event hall in Berlin.
RT's video news agency, Ruptly, caught the remarks on camera.
Schröder said earlier this month, and again in Berlin this week, that he expected US intelligence would monitor him due to his outright opposition to the war in Iraq after the extent of the NSA's spy operations were first unveiled. What did surprise him, though, was that Angela Merkel, German's current chancellor, was watched over as well after being elected nearly nine years ago, he said Thursday.
"The political problem, as I had to read especially in the newspapers, was that it was my own fault because I was against the Iraq War and therefore should have assumed that it was a given for the Americans to find out what my motives were and whom I was scheming with. This, of course, brought me to the question of why Mrs. Merkel was spied on because either the NSA somehow overslept the transition of power in 2005, or, but one really cannot imply this about Mrs. Merkel, that she disputed with the Americans in a particularly stubborn way," Schröder said.
"It didn't even interest them if it was me or her," he added.
The Snowden documents cited earlier this month by the German media suggested the NSA began monitoring the chancellor of Germany starting in 2002. When top-secret documents leaked last year by the former contractor began to show the extent of the NSA's operations, Ms. Merkel accused the US of spying.
The US "is not monitoring and will not monitor the communications of Chancellor Merkel," White House press secretary Jay Carney insisted back in October. Only one month later, however, additional leaks showed that Merkel's mobile telephone was on a list maintained by the NSA's Special Collection Service from 2002 up until as recently as early last year.
You can share this story on social media: