NSA spied on Germany's Schroeder over Iraq War opposition - report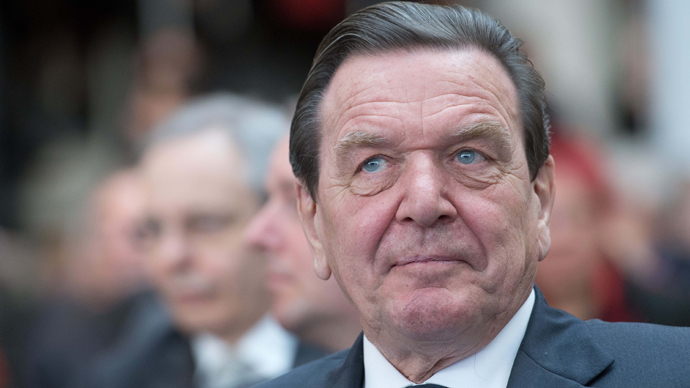 The US eavesdropped on former German Chancellor Gerhard Schroeder over his staunch criticism of the 2003 US-led invasion of Iraq, says a new report by German journalists.
Schroeder was added to the NSA espionage targets list as number 388 by 2002, Munich daily Sueddeutsche Zeitung and NDR revealed in their reports on Tuesday.
Media quoted unnamed US government officials and "NSA insiders" who saw Snowden documents.
Schroeder told Sueddeutsche Zeitung that he was not surprised by the report.
The paper added that NSA spying involved not only the detection of connection data, but also written and spoken communications.
In 2002, Schroeder and his Social Democratic party parted with America's views, stating at the beginning of its election campaign that Germany would not provide troops or money for an invasion of Iraq.
The party made a promise that it would stay out of the war, even if it was approved by the UN.
"We are ready [to give] solidarity. But this country under my leadership is not available for adventure," Schroeder said in August 2002.
"We didn't shy away from offering international solidarity in the fight against international terrorism. We did it because we were, and are, convinced that it is necessary; because we knew that the security of our partners is also our security. But we say this with equal self-confidence: we're not available for adventures, and the time of checkbook diplomacy is over once and for all," he added.
Der Spiegel previously revealed that Chancellor Angela Merkel's mobile phone has been on an NSA target list since 2002 and is code-named "GE Chancellor Merkel."
In the NSA's Special Collection Service (SCS) document cited by the magazine in October 2013, the agency said it has a "not legally registered spying branch" in the US embassy in Berlin. It also warned that its exposure would lead to "grave damage for the relations of the United States to another government."
Using the spying branch, NSA and CIA staff have tapped communications in Berlin's government district with high-tech surveillance.
According to a secret document from 2010, such branches exist in about 80 locations around the world, including Paris, Madrid, Rome, Prague, Geneva, and Frankfurt.
You can share this story on social media: