US court reverses conviction in Catholic Church child sex abuse case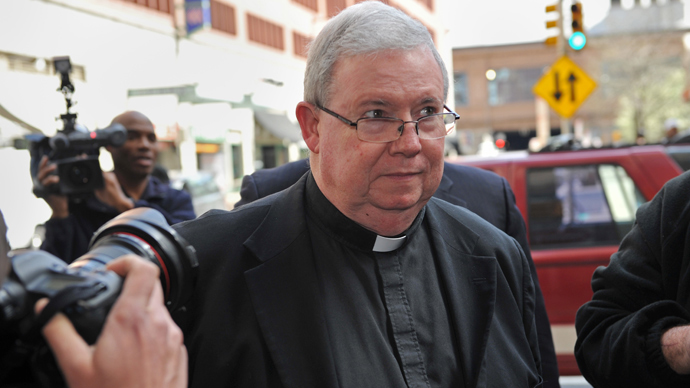 A Roman Catholic Church official who has been jailed for 18 months for failing to protect children from a known sexual predator within the Philadelphia Archdiocese had his conviction reversed Thursday by a Superior Court and was ordered to be released.
A three-judge Superior Court panel dismissed prosecutors' arguments that Monsignor William Lynn was responsible for the welfare of any particular child.
"He's been in prison 18 months for a crime he didn't commit and couldn't commit under the law," said Lynn's attorney, Thomas Bergstrom, according to AP. "It's incredible what happened to this man."
Prosecutors had argued that Lynn, 62, reassigned known sexual predators to new parishes in Philadelphia while serving as the archdiocese's secretary for clergy from 1992 to 2004.
The Monsignor's original conviction came from the case of priest Edward Avery, who was found to have abused a child in 1998 after Lynn transferred him to a new parish.
Lynn is serving a three- to six-year prison sentence following his June 2012 child endangerment conviction. His attorneys are attempting to confirm his release from the Pennsylvania state prison in Waymart as soon as possible.
Lynn's defense has long maintained that the state's child endangerment law at the time of his trial only applied to parents and caregivers - not someone in Lynn's supervisory position. Common Pleas Judge M. Teresa Sarmina rejected that argument and allowed the case to proceed until the appellate-level Superior Court's panel reversed her ruling.
Prosecutors may ask the full Superior Court to rehear the case, though Philadelphia District Attorney Seth Williams indicated to AP that an appeal is likely.
Supporters of Lynn, the first high-ranking US church official convicted for failing to protect children from possible sex abuse by clergy, contend that he was used as a scapegoat for the broader nationwide sex abuse scandals in the Catholic Church - including two cardinals who were never charged.
Bishops in archdioceses across the US have received sexual abuse complaints from well over 6,000 priests - or 5.6 percent of priests in the US – between the years of 1950 and 2011, according to BishopAccountability.org, a comprehensive online archive of Catholic Church abuse established by lay Catholics.
You can share this story on social media: