California bureaucrats blow 9/11 money
Published time: 30 May, 2012 21:56
Edited time: 31 May, 2012 01:58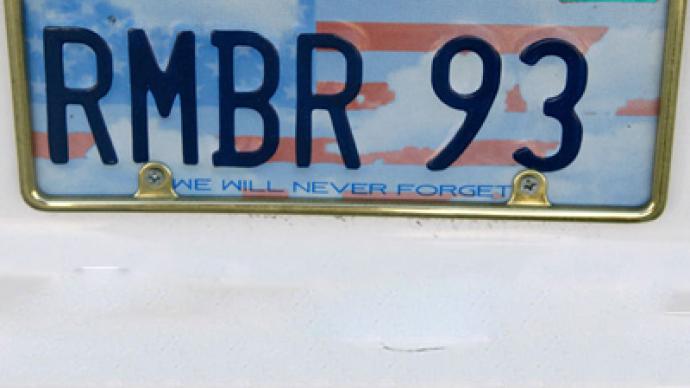 It reads "We Will Never Forget," but lawmakers in California can't say that's the case. Money raised through the sale of a commemorative license plate meant to fund families impacted by the September 11 terrorist attacks has been grossly mismanaged.
An investigation carried out by the Associated Press reveals that millions of dollars designated to go towards scholarships for the families of victims of the 9/11 attacks living in California and other endeavors has instead been spent elsewhere; in many cases, officials from both the right and the left have dipped into the money made by selling the commemorative plates and used the funds instead to settle the state's outstanding debts.
"I can't believe that they would do that," Candice Hoglan tells the AP. Holgan is one of the many Californians that has contributed to the fund that has brought i around $1.5 million a year since being introduced in 2002. Since that year, California residents have either bought or renewed their license plates a total of more than 200,000 times, taking in an estimated $15 million for the "California Memorial Scholarship Program." Instead of that money going towards education funding and antiterrorism efforts as originally planned, however, Hoglan and thousands of others have recently become aware that state officials aren't doing as planned.
"We're paying extra for the plate; we're making a point, and it means a lot to us," says Hoglan, who lost her nephew, Mark Bingham, in the terrorist attacks. Instead of contributing towards the fund's goals, Hoglan has recently become aware that the money she has forked over annually has been spent seemingly everywhere else.
The AP reports that 85 percent of the program's funds are supposed to be designated towards anti-terrorism efforts. Instead, the numbers are nowhere close to that.
According to their report, only around 40 percent of the money raised — around $6 million — has gone towards anti-terrorism training programs. Another $1 million was handed out to fusion centers that were established to handle terrorist threats, but now more regularly works with gang activity and natural disasters, reports the AP. An additional $2 million has been allocated towards programs that protect residents of the state from all potential threats — not just terrorist attacks.
Furthermore, funds designated specifically for educational scholarships were supposed to amount to 15 percent of the total brought in through the sale of the plates. Instead, only 1.5 percent went towards that endeavor since 2002; in 2005, the state's treasurer's office closed the program down to keep new people from asking for money — barely $20,000 has ever been handed out and yet the program has $60,000 in reserve, reports the AP.
Others who have paid an initial $50 plus a $40 annual renewal fee for a star-spangled license plate that boasts "We Will Never Forget" are learning that what they thought was a charitable organization has dumped millions of contributions into fixing the problems not brought on by terrorists but by the state itself. The California Emergency Management Agency used almost $1 million — or five times what went towards the scholarship aspect — towards administrative costs. In 2008, then Governor Arnold Schwarzenegger put $2 million towards closing a budget gap; in 2011, Governor Jerry Brown did the same with another $1 million.
Elsewhere, $11,492 went to the California Department of Food and Agriculture so that the agency can pay for state-mandated auto inspections for work vehicles.
"I understand the financial climate they find themselves in, but they are not following the spirit and intent of the legislation," Herb Wesson, who designed the bill while in the California Assembly, tells the AP ten years later.