California to start issuing drivers' licenses for young illegal immigrants
Published time: 22 Aug, 2012 20:10
Edited time: 23 Aug, 2012 00:16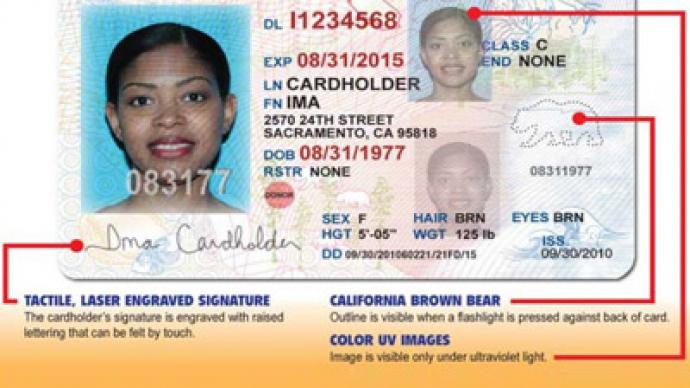 About 400,000 illegal California immigrants with federal deferrals will be granted driver's licenses for the first time in nearly two decades, giving them the right to live and work in the US for at least two years without fear of deportation.
Immigration agencies are now accepting applications for deportation deferrals under President Obama's Deferred Action for Childhood Arrivals, which was made into law by an executive order on June 15. For $465, young illegal immigrants can apply to a program that would let them temporarily stay in America and obtain a work permit.
The program is open to undocumented immigrants between the ages of 15 and 31, who came to the US before age 16 and have no criminal record. They must also been in the US for at least five years and have received a high school diploma, or be in the process of earning one.
California is extending the privileges, allowing immigrants eligible for the program to also earn a driver's license. This privilege is currently banned under state law.
"But it remains uncertain whether clarifying legislation or regulations will be necessary," the Department of Motor Vehicles wrote in a statement.
California Gov. Jerry Brown has repeatedly spoken against changing the law to allow all undocumented immigrants to obtain driver's licenses.
California lacks the ease of public transportation present in cities like New York or Washington, DC. Undocumented immigrants denied the right to drive are often forced to drive illegally, without a license or insurance. Allowing California immigrants to obtain a license would make roads safer, according to state legislators in support of adding the privilege.
"There are people who are going to be contributing to our economy by seeking work or pursuing educational goals," Assemblyman Luis Alejo told the Sacramento Bee. Among these might be a large percentage of immigrants accepted to the Deferred Action program, who are required to have an education and therefore may need the ability to drive to work and attend college elsewhere.
"I know there are a lot of people without documentation who want to continue their school and work and make a better life for their families," 17-year old Darinca Barron, who was brought to the US from Mexico at age 6, told the New York Times.
But not every state is as accepting as California. Arizona Gov. Jan Brewer signed an executive order this month, prohibiting state agencies from granting driver's licenses to Deferred Action participants. Governors in Nebraska and Texas have followed Brewer's lead.
"At the end of the day, it's a state-issued document, and the state has the authority to determine who is eligible for that document," said Iran Grossman, vice president of the American Association of Motor Vehicle Administrators, in an interview with CNN.
As US states diverge in terms of granting licenses to immigrants, California has already laid the groundwork to extend driving privileges to all of its members of the federal deferral program.